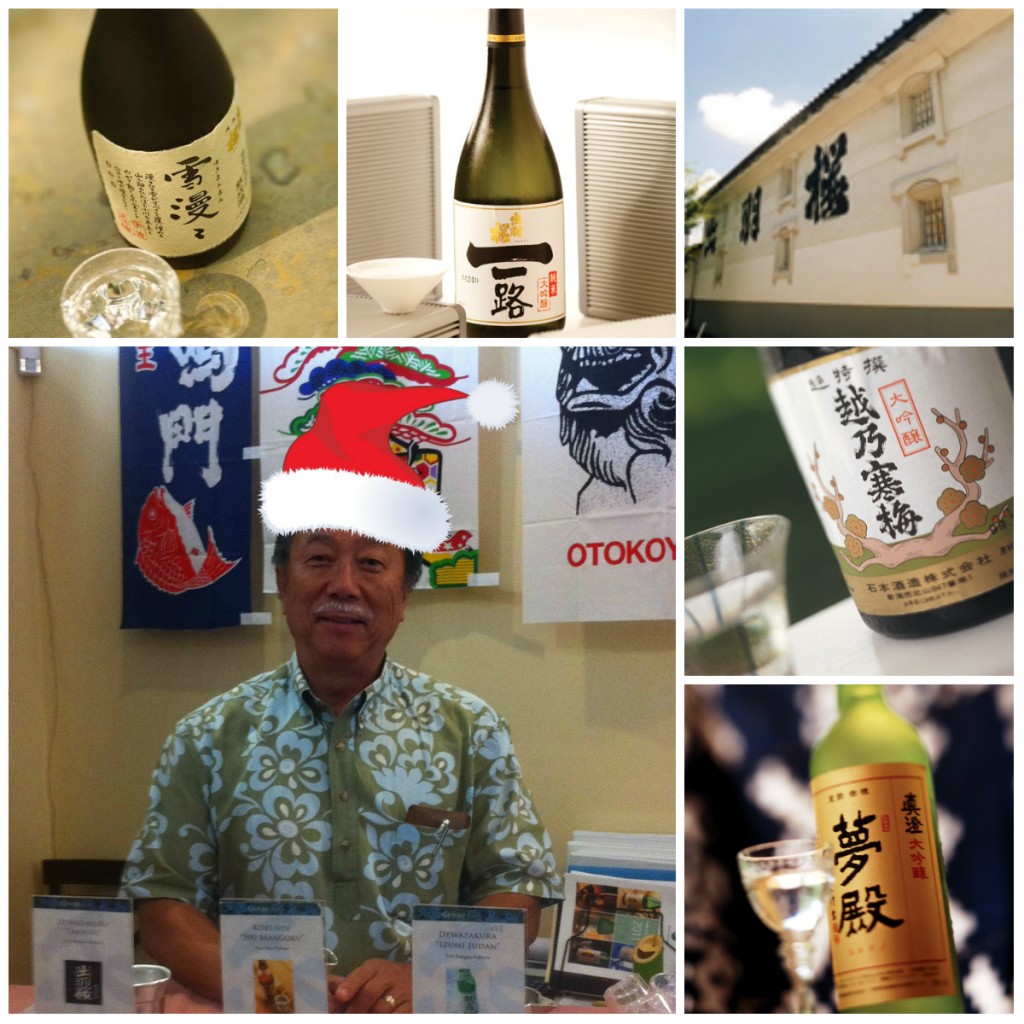 "GINJO BELLS, GINJO BELLS,
GINJO ALL THE WAY"
A HOLIDAY SAKE TASTING!
HO HO HO and Seasons Greetings from The Sake Shop! It's that time of the year again, when we hold our annual holiday sake tasting, Because you've all been good girls and boys (well mostly good I guess) we've come up with quite an impressive list of different sake to sample this Saturday.
For your tasting pleasure, there will be NINE different sake for you to partake in, including a 5-year subzero temperature aged Daiginjo!
As usual, Mr. Yoshiharu Suzuki (Yoshi) will be on hand to pour all of this wonderful sake and answer any questions you might have. He wants to spread as much holiday cheer as he can, so he's starting early (as usual) at 2:00pm and will be pouring until 7:30pm, or until we run out of sake.
So why deal with all the craziness at the malls? Stop by the shop this Saturday, and get all of your holiday shopping done in one place while enjoying a tasty alcoholic beverage. Hope to see everyone there.
"GINJO BELLS, GINJO BELLS,
DAIGINJO ALL THE WAY!"
A HOLIDAY SAKE TASTING!
Saturday, December 17, 2016
2:00pm to 7:30pm
DEWAZAKURA YUKIMANMAN
"SNOW COUNTRY"
5-Year Cold Aged Daiginjo
The ultimate high end sake from our friends at Dewazakura, Yukimanman is very unique in that it's cold aged for 5-years before release. Aging at subzero temperatures (as opposed to room temperature) produces a wonderfully mild and elegant flavor. Vividly fruity before aging, after 5-years this sake takes on muted tones of pomegranate and persimmon. We rarely have a chance to sample such a high end sake so you won't want to miss this one.
DEWAZAKURA ICHIRO
"ABBEY ROAD"
Daiginjo
Relatively new to the US, Dewazakura Ichiro has quickly grown to become one of our most popular Daiginjo sake at the shop. Fresh meadow imprint of flowers and grass billows out into a fuller flavor profile replete with young fruit. A dry gently fading finish rounds the circle. Gold award winner at previous Joy of Sake/US National Appraisals and top-scoring sake entry at the London 2008 International Wine Challenge and one of Malcolm's favorites.

MASUMI YUMEDONO
"MANSION OF DREAMS"
Daiginjo
One of the most elegantly floral and fruity sake we've had the pleasure of ever drinking, Yumedono presents an array of flavor nuances that include peach, melon and strawberry. Rarely does one sake combine so many taste sensations in a single cup … or finish so gloriously!
KOSHI NO KANBAI CHOTOKUSEN
"PINNACLE OF PERFECTION"
Daiginjo
Delicately flavored, astonishingly subtle, impeccably balanced, this legendary label is the despair of sake critics in Japan, who confess that it's flavor is impossible to describe. Usually a restaurant only sake, we will have a limited supply on hand for sale at the tasting.
KOSHI NO KANBAI TOKUSEN
"VANISHING POINT"
Ginjo
From the very first sip, this "Restaurant Only" sake displays a variety of subtle, ineffable flavors, which converge and diffuse just on the edge of the mind's awareness. Its elusive nature has given Koshi no Kanbai the nickname "The Phantom Sake".
KOKURYU TOKUSEN
"CRYSTAL DRAGON"
Ginjo
Kokuryu Tokusen or "Crystal Dragon" expresses its ginjo identity not through fragrant aroma but with decisively good taste. Its hallmarks are strength, flavor depth and, imperturbable balance. Excellent sake with a subtle banana finish. One of our best sellers.
KOKURYU JUNMAI GINJO
"BLACK DRAGON"
Junmai Ginjo
Kokuryu Junmai Ginjo has the imposing presence of sakes brewed in the Noto Toji style of Western Japan. Its deeply mysterious flavor seems to come from the earth itself: rich, dynamic and welcoming. One of our favorite sake to pair with food. Goes well with everything from sashimi to grilled meats!
KOKURYU KUZURYU
"NINE HEADED DRAGON"
Junmai
Fukui brewers' skills with "500 Mangoku" rice is evident with this lovely release. Light bodied yet beguilingly full flavored, making for a truly satisfying junmai drinking experience. Just introduced to Hawaii last year.
MIYASAKA YAWARAKA
"SAKE MATINEE"
Junmai
This charming junmai, with it's faint taste of wild plum, represents a new direction for Japanese brewers. It is smooth and gentle, with sweetness and acidity in finely etched balance. Ideal for lunchtime sake sipping.
Get all your holiday shopping done in once place while sipping on a tasty beverage. See you Saturday!
Kanpai,
Malcolm & Nadine Leong
The Sake Shop
"GINJO BELLS, GINJO BELLS,
DAIGINJO ALL THE WAY!"
A HOLIDAY SAKE TASTING!
Saturday, December 17, 2016
2:00 pm to 7:30 pm

Kokuryu Sake Brewery
Kokuryu's founder, Nizaemon Ishidaya, built the original brewery in 1804 in the vicinity of Eihei-ji, the main temple of the Soto Zen Buddhist sect which is located in Fukui prefecture. Nizaemon's descendants have been making sake there ever since.
Among the soft-water breweries of Japan, Kokuryu is perhaps the most famous. Its water is drawn from the subterranean flow of of Kuzuryugawa (Nine-Headed Dragon River) famed since ancient times for its delicious taste.


Soft Water
Sake made from soft water tends to pick up subtle flavor nuances that are not detectable in the crisp, dry sakes made from mineral-rich hard water. At the ginjo level they are multi-layered and complex, and It is not always easy to describe their qualities in words.
Kokuryu labels resound with deep flavor, but what makes them unique is their overall finesse. Often sakes with a big flavor profile become muddied by amino acids and other fermentation byproducts and lack clarity.
Somehow Kokuryu manages to avoid this, bringing rich flavor and delicate balance together in a unique expression of the sake-maker's art.

Dewazakura Sake Brewery
Dewazakura Brewery is located in the snowy Alps of Yamagata prefecture in Northern Japan.
Founded in 1893, Dewazakura is known for producing crisp, aromatic and cleanly balanced sake. The brewery's sub-zero storage technique make it possible to enjoy their wonderful sake all year round.
Dewazakura is known as the brewery who brought the first "ginjo" sake to the masses (Oka) by producing an affordable ginjo sake for the first time over 30 years ago.
Prior to this, ginjo sake was only made for sake competitions and it was much too expensive to produce for general sale.


Mr. Masumi Nakano
A couple of years ago, Nadine and I had the pleasure of first meeting Mr. Masumi Nakano, the President of Dewazakura Brewery. Since then we've been lucky enough to see him several times, most recently at last years Joy of Sake event.
You may have noticed that Mr. Nakano's first name "Masumi" is the same name as a very well known line of sake also called "Masumi" that is made by Miyasaka Sake Brewery.
It turns out that there is a very interesting connection between Dewazakura and Masumi. So when you're having a sip of Masumi Yumedono this Saturday at our tasting, be sure to ask Yoshi to tell you the story about this.


Ishimoto Sake Brewery Bamboo Fence
The farmers of Kameda in Niigata prefecture where Ishimoto Sake Brewery is located, long brewed nigori-zake to earn extra revenue during the freezing winter months. But in 1900, home brewing of sake was prohibited by law, which brought a halt to their activities.
In response, Ryuzo Ishimoto, wanting to offer the citizens of Kameda the opportunity to drink their traditional beverage, started a brewery and named his sake Koshi no Kanbai, which means "plum flowers blossoming in the winter cold".

Seigeo Ishimoto
The foundations of the brewery's reputation today were laid by the 2nd generation brewery head, Seigeo Ishimoto. He began using rice purchased from Okayama and Hyogo.
When digging in the backyard of his home, he also discovered a source of water that he felt would be well suited for sake brewing. The results of these efforts was the top prize at a national contest for alcoholic beverages held in 1926.


Ishimoto Sake Brewery Workers
In 1913, due to wartime need, Ishimoto Sake Brewery was ordered to produce rations for the military. Consequently, the brewery began making wine, and an official appraiser of the Kanto-Shinetsu Regional Taxation Bureau, Tetsuro Tanaka, came to oversee the switch.
This encounter would have a profound effect on the brewery's subsequent history. Ishimoto and Mr. Tanaka became determined to brew an ideal sake, without making any compromises and worked hard to perfect Koshi no Kanbai.


Mr. Tatsunori Ishimoto
Eventually this sake became appreciated by connoisseurs like Dr. Kinichiro Sakaguchi, who recommended Koshi no Kanbai at a German party, where a European wine would have been the conventional choice.
In a time when heavy, sweet sakes were the norm, Hisako Sasaki, the editor of sake magazine was fascinated by the robust dry taste of Koshi no Kanbai. Sasaki introduced it to her readers, recommending it as an unconventional sake.
Her enthusiasm encouraged weekly mass market magazines to feature Koshi no Kanbai, further boosting the sake's popularity and earning it a strong reputation that it retains to this day.
* The preceding information regarding Koshi no Kanbai comes from the book "Sekai ni Hokoru "Kokushu" Nihonshu.


Miyasaka Sake Brewery
The Miyasaka family originally served as retainers to the Suwa clan who ruled the area at that time. However, following years of strife between the Suwa clan and the warlords Takeda Shingen and Oda Nobunaga,  the family gave up their swords and turned to sake making.
The brewery was firmly established by 1662 and had done well enough to gain the praise of several historical figures including the 6th son of Shogun Tokugawa Ieyasu and Otaka Gengo, one of the famous 47 Ronin.


Masumi Bronze Mirror
Miyasaka Brewery began using the name "Masumi" for their sake at the end of the Edo period (1603-1867). Masumi, which means "truth" or "transparency", is the name of an 8th century bronze mirror that is kept at the Suwa Taisha Shinto Shrine.
The Miyasaka family provided the shrine with sake for centuries so it was only fitting that that their sake took the name of the shrine's "Masumi Mirror".

---
The Sake Shop
1461 S. King Street
Honolulu, HI 96814
Ph (808) 947-7253
Fax (808) 947-7254
sakeshophawaii@gmail.com
www.sakeshophawaii.com
Twitter @sakeshop
Facebook The Sake Shop
Map: 
maps.google.com/maps
Parking
Metered parking available on King Street, Kaheka Street & Liona Street. Pay lot located behind our building. $2 for 1/2 hour Monday – Friday until 6pm and Saturdays until 2pm. All other hours $2 for 5 hours (paybox). Enter from Liona Street. Unfortunately we are unable to  validate parking.
Hours of Operation  
10am to 8pm Mon – Sat
10am to 5pm Sun