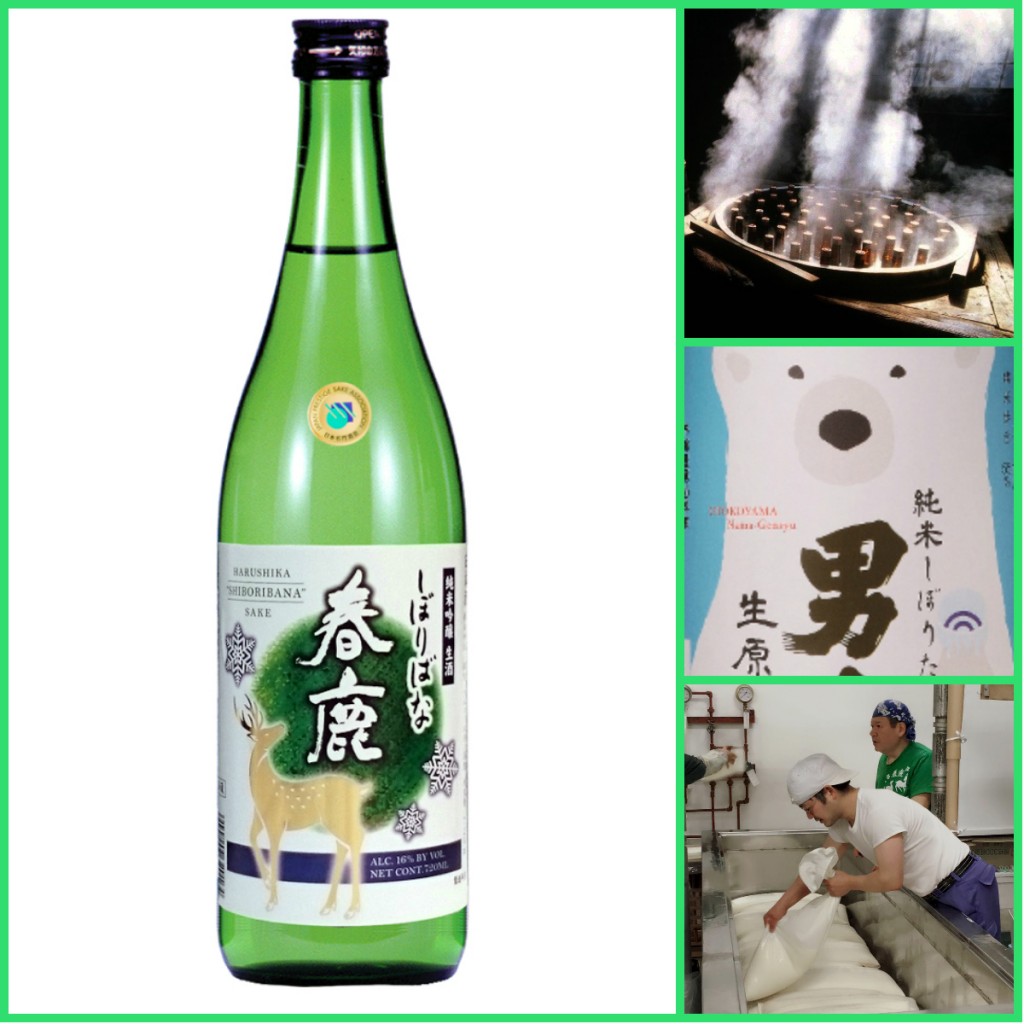 SPRING SEASONAL SAKE TASTING
SPRING has finally arrived at The Sake Shop! How do we know it's Spring you ask? Is it because of the beautiful weather we've been having or maybe the blooming flowers everywhere? No my friends, it is now officially Spring at the shop because our shipment of seasonal SPRING NAMAZAKE has arrived!
Join us this Saturday for our annual Spring Seasonal Sake Tasting! All of sake we'll be sampling are "Nama" or unpasteurized, which gives them a fresh, green and brash flavor. Some of them are also "Genshu" which means the alcohol content is a little higher than most sake.
It's been so long since last year's Spring namazake tasting that we just can't wait to try out this year's batch!  Should be a lot of fun. Hope to see you then!
Spring Seasonal Sake Tasting!
Saturday, March 4, 2017
5:00pm to 8:00pm
Otokoyama
 TOKUBETSU JUNMAI NAMA GENSHU
** NEW TO THE SHOP **
While we are usually familiar with most of the sake from Otokoyama, this particular Spring sake is a new one for us. We'll be sampling it for the first time this Saturday and we're really looking forward to it. It's described as having a gentle aroma with a soft and mild texture and a fresh taste. The cool picture of the polar bear on the label makes it even better!

Gokyo Arabashiri
JUNMAI NAMA GENSHU
New to the shop a few years ago, this seasonal unpasteurized sake begins with refreshing aromas of young banana and ripe apple. The name "Arabashiri" means "free run" and refers to the fact that only the first part of the sake pressing is bottled for this sake. "Genshu" means it's undiluted and bottled at full strength.

Harushika Shiborbana
JUNMAI GINJO NAMA SAKE
This unpasteurized Junmai Ginjo from Nara prefecture is hands down our best selling seasonal Spring sake year after year. Flavorful light and smooth, this sake has a very fresh and clean aroma with a hint of strawberries. Perfectly balanced fruity flavors with soft texture and an elegant finish.

Koshinohomare Shiboritate
JUNMAI NAMA GENSHU
From Niigata prefecture, Koshinohomare Shiboritate is rich and smooth with tranquil aromas of fruits, grains and yogurts. Great balance of acidity, fruity and savory flavor. Deep and expansive taste with crisp finish.
So please join us this Saturday for our annual taste of Spring. See you then!
Kanpai,
Malcolm & Nadine Leong
The Sake Shop
Spring Seasonal Sake Tasting!
Saturday, March 4, 2017
5:00 pm to 8:00 pm

Sake Bottles Heated in Water
For those of you who are not familiar with "Nama" or unpasteurized sake, here is a quick overview on what it's all about.
As a general practice, most sake is pasteurized twice (by heating) before being released for sale. This process eliminates undesirable microorganisms and smooths out the flavor. This is also why most sake are shelf stable and can be stored unrefrigerated.
When a sake is not pasteurized at all it is called a "Nama" sake or "Namazake". Nama is the Japanese word for raw or fresh. In this case you could think of it as fresh or "draft" sake.
Namazake have a very distinct flavor profile, with a wonderful green brash flavor. They must be kept refrigerated until consumed to keep live enzymes and other things from activating.
In line with this type of brewing style, many of these unpasteurized sake are not diluted with water as most other sake are. Sake that are not diluted with water are referred to as "Genshu" and can have an alcohol content of up to 20% compared to most sake's 15 to 16%.


Harushika Sake Brewery
Harushika Brewery was founded in 1884 and is located in the Naramachi quarter of Nara prefecture. Harushika means "Spring Deer" in Japanese.
The first capital of Japan was established in Nara prefecture approximately 1,300 years ago in 710 AD. Nara is also said to be the birthplace of Japanese sake.
Today Harushika is a very well established brewery. They continue to brew their sake using the Nanto Morohaku method which originated in Nara prefecture. Their sake is highly sought after and they currently export to 10 different countries.
Their production philosophy is "Polish the rice, polish the water, polish the technique and polish the mind."


Kasuga Shrine
Kasuga Taisha or "Kasuga Shrine" is a Shinto Shrine in the prefecture of Nara. Originally established in 768 AD it has been rebuilt several times over the centuries.
The path to Kasuga Shrine goes through Deer Park, where the deer are allowed to roam free. The deer are believed to be messengers of God and are revered and respected.
Harushika Brewery has been brewing sake for Kausga Taisha since 1884.They originally began as the official sake brewery of the Kasuga Shinroku or "Deer of the Gods" and later became known as Harushika.
The name Harushika comes from one of the kanji characters in the shrine's name "Kasuga" and the other from the word for "Deer".


President Kiyotaka Imanishi  
The Imanishi family has been brewing sake for the Kasuga Taisha Shrine since the 10th Century. Mr. Kiyotaka Imanishi is the family's 48th generation brewer.
Mr. Imanishi stopped by the shop a few years ago to pour his sake which was was very well received. His Junmai Daiginjo quickly became a shop favorite.
---
---
The Sake Shop
1461 S. King Street
Honolulu, HI 96814
Ph (808) 947-7253
Fax (808) 947-7254
sakeshophawaii@gmail.com
www.sakeshophawaii.com
Twitter @sakeshop
Facebook The Sake Shop
Map: 
maps.google.com/maps
Parking
Metered parking available on King Street, Kaheka Street & Liona Street. Pay lot located behind our building. $2 for 1/2 hour Monday – Friday until 6pm and Saturdays until 2pm. All other hours $2 for 5 hours (paybox). Enter from Liona Street. Unfortunately we are unable to  validate parking.
Hours of Operation  
10am to 8pm Mon – Sat
10am to 5pm Sun