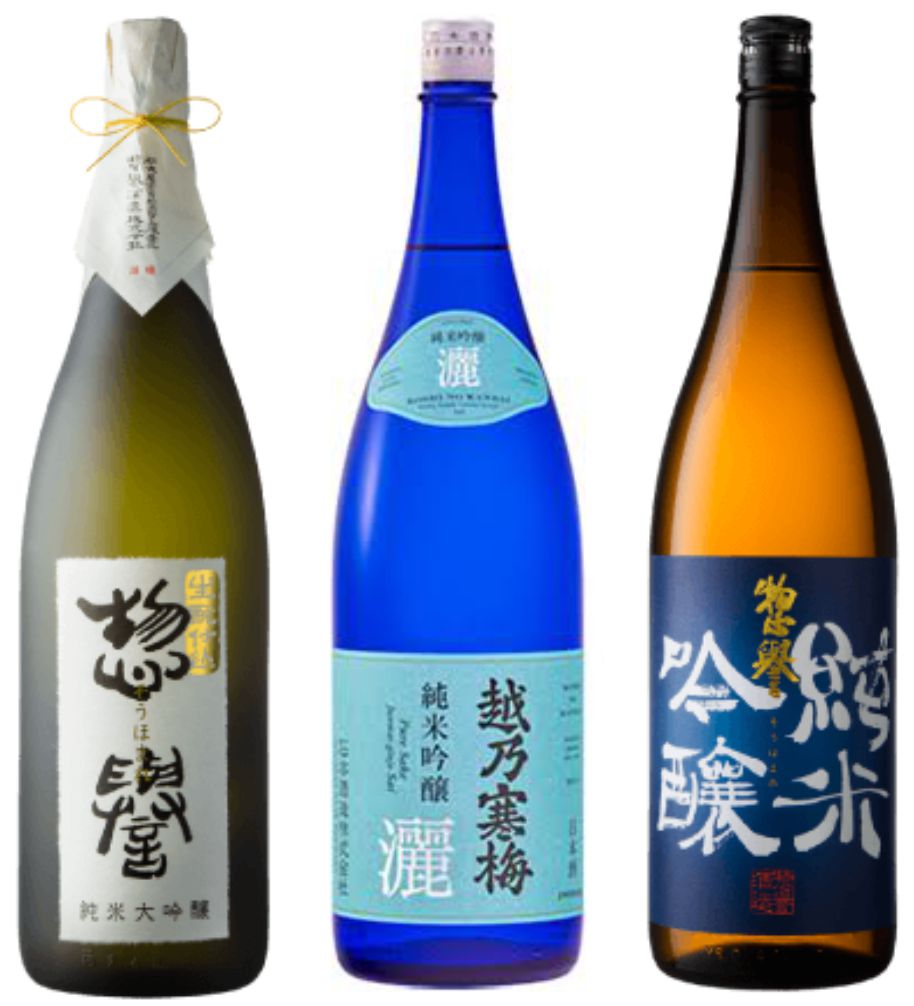 WORLD SAKE IMPORTS NEW SAKE TASTING!
World Sake Imports is one of the importers we buy sake from. They are a great company to work with, and they bring in a ton of good sake. Many of you are already familiar with some of the sake and breweries they represent such as Koshi no Kanbai, Kokuryu, Sohomare and Tamagawa just to name a few.
Over the years we been very lucky to sample many of their wonderful sakes at our shop. This Saturday will be no exception as we have the privilege of introducing THREE sake that are BRAND NEW to Hawaii (and the US) for the very FIRST TIME! 
Join us this Saturday as we introduce to Hawaii, Koshi no Kanbai Sai, Sohomare Junmai Ginjo and Sohomare Junmai Daiginjo. And for good measure, we'll be adding five more sake to the list making it a total of EIGHT different sake that we'll be sampling that day.
Mr. Yoshiharu Suzuki (Yoshi) will be on hand to pour all of this wonderful sake and answer any questions you might have. Yoshi likes to start early so this this tasting begins at 2pm. With all of the new sake we'll be sampling I'm sure that we'll need the extra time. See everyone then!
WORLD SAKE IMPORTS
NEW SAKE TASTING!
Saturday, February 18, 2017
2:00pm to 7:30pm

KOSHI NO KANBAI SAI
"BLUE RIVER"
Junmai Ginjo
** BRAND NEW TO HAWAII **
It's been 45 years since Koshi no Kanbai has released a new sake, so you know this is going to be a good one! Sai is an exploration of new possibilities for Koshi no Kanbai. It blends the unmistakable umami of rice with a crisp delicate finish. It boasts a soft aroma and a smooth effortless finish without sacrificing any of that distinct rice flavor. The kanji character for "Sai" signifies the idea of "cleansing with water" and denotes a "smooth, refreshing" quality.
KOSHI NO KANBAI MUKU
"PURE REALM"
Junmai Ginjo
This classic Niigata sake has integrity, harmony and easy drinkability. The aroma is subdued, the acidity nuanced, the balance perfect. Made from Yamadanishiki rice for a rich, yet transparently clear, flavor profile.

SOHOMARE JUNMAI GINJO
"INDIGO"
Junmai Ginjo
** BRAND NEW TO HAWAII **
Why is this sake called "Indigo" in English you ask? There are four primary colors in the world: blue, red, yellow and black. Although indigo looks blue, it is actually a complex mixture of blue, red and black. That's what gives it a deep, rich color. Similarly, due to blending and aging, this new Sohomare ginjo label has a rich flavor that is quite elegant, like the color indigo. (And the label is indigo in color as well.)
KOKURYU RYU
"GOLD DRAGON"
Daiginjo
Elegant, sophisticated sake that was once served in First Class on Japan Airlines. The soft water of Fukui, combined with the robust Kokuryu brewing style, produces a sake that is gentle and firm. It has a faint, cedar-like woodiness, and an incisive melding of flavor and aroma.Delicately flavored, astonishingly subtle, impeccably balanced, this legendary label is the despair of sake critics in Japan, who confess that it's flavor is impossible to describe.
SOHOMARE KIMOTO JUNMAI DAIGINJO
"TUXEDO"
Junmai Daiginjo
** BRAND NEW TO HAWAII **
Why call this kimoto daiginjo sake "Tuxedo"? The reason is because it's an expression of masculine elegance. We think even lady sake-drinkers will like it. It's made using the finest Yamadanishiki sake rice harvested in the "Premium A" area of the Yokawa region of Hyogo Prefecture. It is carefully brewed using the traditional Kimoto method and it's principal characteristics are its soft and slightly creamy entry on the palate that then gives way to profound mid-palate density and elegant aroma.
SOHOMARE KARAKUCHI
"PREMIUM DRY SAKE"
Junmai
This masterful interpretation of the "dry sake" genre from Sohomare is crystal clear and bracingly delicious. Made with Yamadanishiki rice, it has everything you look for in a junmai: flavor, clarity and impeccable structure.
SOHOMARE TOKUBETSU KIMOTO
"HEART OF SOUL"
Tokubetsu Junmai
Contemporary rendition of ancient Kimoto style sake. Soulfully drinkable with plenty of acidity and ample umami, all in perfect harmony. Made with Yamadanishiki, Japan's finest sake brewing rice. One of our favorites at the shop.
TAMAGAWA TOKUBETSU JUNMAI
"HEART OF OAK"
Tokubetsu Junmai
Signature Junmai release from British Sake Brewmaster Philip Harper. Nutty and toasty with a wild berry zing, this full-throated evocation of Junmai delight is in a class by itself. Richly flavorful, yet crisp-drinking and always balanced.
Join us this Saturday as we sample eight different sake, including THREE that are BRAND NEW to Hawaii! You won't want to miss this one. See you there!
Kanpai,
Malcolm & Nadine Leong
The Sake Shop
WORLD SAKE IMPORTS
NEW SAKE TASTING!
Saturday, February 18, 2017
2:00 pm to 7:30 pm

Sohomare Sake Brewery
Sohomare Sake Brewery was established in 1872 by the Kono family and is located in Tochigi prefecture. Relatively new to Hawaii and first introduced at the 2013 Joy of Sake event, Sohomare is brewed using the old school Kimoto method.


Mr. Jun Kono & Nadine
Jun Kono, President of Sohomare Sake Brewing Company comes from an old sake brewing family with roots in Shikoku. During the Edo period they made sake in Shiga prefecture and then in 1872, moved to their current location in Tochigi prefecture.
In his early twenties he traveled to France, studying the language and visiting European wineries. Returning to Japan, he graduated from the prestigious Tokyo University, where he specialized in micro-economics. In 1989 he returned to Tochigi to take over brewery operations.

Premium A Rice
By using the best available Yamadanishiki rice from Hyogo known as "Premium A" that is polished at the brewery itself, and by using precise brewing methods, Sohomare brought a new sense of elegance to the Kimoto sake category.


Sohomare Brewery Workers
In recognition of it's skill, in 2013 Sohomare Sake Brewery won the top award at the Kanto-Shinshu Regional Sake Judging of entries from 211 breweries in six prefectures, including Nagano and Niigata.
.

Ishimoto Sake Brewery Bamboo Fence
The farmers of Kameda in Niigata prefecture where Ishimoto Sake Brewery is located, long brewed nigori-zake to earn extra revenue during the freezing winter months. But in 1900, home brewing of sake was prohibited by law, which brought a halt to their activities.
In response, Ryuzo Ishimoto, wanting to offer the citizens of Kameda the opportunity to drink their traditional beverage, started a brewery and named his sake Koshi no Kanbai, which means "plum flowers blossoming in the winter cold".

Seigeo Ishimoto
The foundations of the brewery's reputation today were laid by the 2nd generation brewery head, Seigeo Ishimoto. He began using rice purchased from Okayama and Hyogo.
When digging in the backyard of his home, he also discovered a source of water that he felt would be well suited for sake brewing. The results of these efforts was the top prize at a national contest for alcoholic beverages held in 1926.


Ishimoto Sake Brewery Workers
In 1913, due to wartime need, Ishimoto Sake Brewery was ordered to produce rations for the military. Consequently, the brewery began making wine, and an official appraiser of the Kanto-Shinetsu Regional Taxation Bureau, Tetsuro Tanaka, came to oversee the switch.
This encounter would have a profound effect on the brewery's subsequent history. Ishimoto and Mr. Tanaka became determined to brew an ideal sake, without making any compromises and worked hard to perfect Koshi no Kanbai.


Mr. Tatsunori Ishimoto
Eventually this sake became appreciated by connoisseurs like Dr. Kinichiro Sakaguchi, who recommended Koshi no Kanbai at a German party, where a European wine would have been the conventional choice.
In a time when heavy, sweet sakes were the norm, Hisako Sasaki, the editor of sake magazine was fascinated by the robust dry taste of Koshi no Kanbai. Sasaki introduced it to her readers, recommending it as an unconventional sake.
Her enthusiasm encouraged weekly mass market magazines to feature Koshi no Kanbai, further boosting the sake's popularity and earning it a strong reputation that it retains to this day.
* The preceding information regarding Koshi no Kanbai comes from the book "Sekai ni Hokoru "Kokushu" Nihonshu.


What is Kimoto Sake?
All of the sake we'll be sampling this Saturday from Sohomare is made in the Kimoto style. This word "Kimoto" is not exclusive to any one brewery. Instead it denotes that this sake has been made using an old school method.
Originally all sake in Japan was made using the Kimoto method. Wooden poles or oars are used to pulverize the rice in the starter mash into a fine puree. It was thought that this puree was necessary in order for enzymes to break down the starch in to sugar.


Sake Fermenting
This process is difficult and very labor intensive to say the least. Then some time in the early 1900's, it was found that mashing the rice this way was not necessary. By raising the temperature slightly and adding more water, the same result could be achieved without the pole ramming of the rice.
Kimoto method also relies on wild lactic bacteria to propagate in the mash. Along with no longer needing to pulverize the rice, it was found that pouring of some pure lactic acid into the tank got the job done faster and resulted in a cleaner taste.
Sohomare's use of the Kimoto method is intentional. It produces a contemporary version of an old school flavor. A more elegant taste of "old school" that is hard to understand until you sample it. We highly recommend you give it a try.
---
The Sake Shop
1461 S. King Street
Honolulu, HI 96814
Ph (808) 947-7253
Fax (808) 947-7254
sakeshophawaii@gmail.com
www.sakeshophawaii.com
Twitter @sakeshop
Facebook The Sake Shop
Map: 
maps.google.com/maps
Parking
Metered parking available on King Street, Kaheka Street & Liona Street. Pay lot located behind our building. $2 for 1/2 hour Monday – Friday until 6pm and Saturdays until 2pm. All other hours $2 for 5 hours (paybox). Enter from Liona Street. Unfortunately we are unable to  validate parking.
Hours of Operation  
10am to 8pm Mon – Sat
10am to 5pm Sun