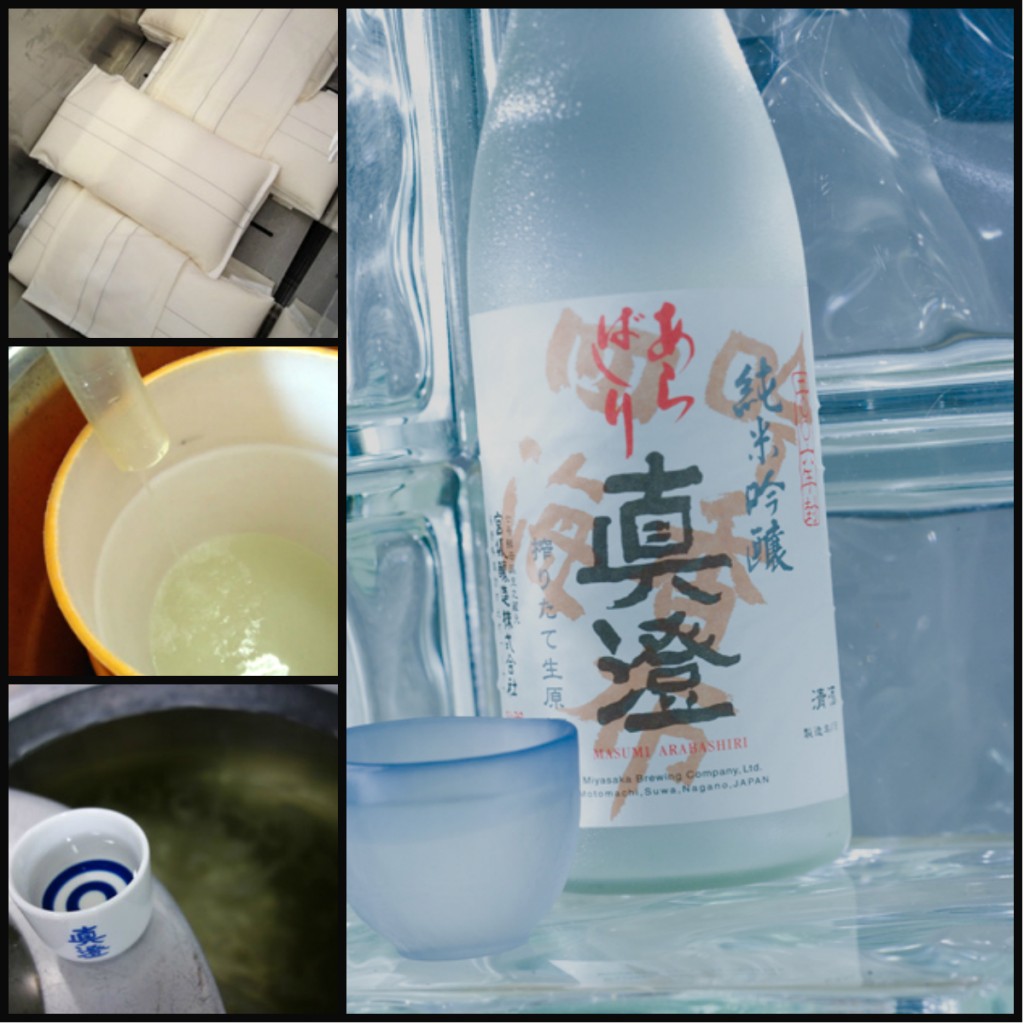 ARABASHIRI SAKE TASTING
Wow, how time flies!  March really snuck up on us when we weren't looking, and suddenly we're smack dab in the middle of Spring. Which is not such a bad thing since Spring is when the annual batch of Masumi Arabashiri sake is released. So you know what this means … it's time for our annual Arabashiri tasting!
And as tasty as Masumi Arabashiri is, one cannot live on just Arabashiri alone. So of course for good measure we're throwing in another five additional sake to taste, for a total of SIX different sake!  Ah Spring, when the smell of sake is in the air …
Yoshi from World Sake Imports will be here to pour his sake and answer all of your questions. Welcoming Spring with a batch of fresh new sake … can't think of any better way to spend this Saturday. Please come by and join us for what should be a great sake tasting!
ARABASHIRI
COMPLIMENTARY SAKE TASTING
Saturday, March 18, 2017
2:00pm to 7:30pm 
  
MASUMI ARABASHIRI
"FIRST RUN"
Ginjo Nama 
It's that time of the year again, when the BRAND NEW batch of Masumi Arabashiri is finally released for sale! In fact, this tasting was planned around the release of this special sake. This Spring release namazake begins with a lovely fragrant aroma, then a vivid clean taste followed with a robust finish. Young and feisty like many namazake, but with surprising finesse, this connoisseur's delight from Masumi is not to be missed.

HOYO KURA NO HANA
"FAIR MAIDEN"
Daiginjo
It's been a few years since we've sampled this at the shop. Very popular at Izakaya Gaku, this premium sake is transparently light and touched with a sweet kiss of anise. Hoyo's winsome grace and charm are irresistible. It's lovely floral aroma and luscious flavor extend a demure invitation to the world of sake enjoyment.

DEWAZAKURA DAIGINJO
"MOUNTAIN CHERRY"
Daiginjo
Wonderfully mild sake from our friends at Dewazakura, this sake is reminiscent of softly melting snow. It has a mild floral fragrance, revealing notes of peach and apricot at mid-range, concluding with a light and slightly dry finish.
 KAMOIZUMI JUNMAI DAIGINJO
"AUTUMN ELIXIR"
Junmai Daiginjo
We normally recommend this sake to people who want something a little richer and "earthier" than the usual Daiginjo as this sake possesses a full range of flavors from persimmon to caramel to earthy notes of shiitake mushrooms and autumn leaves. Tartness, sweetness and "shibumi" (astringency) all converge in harmonious balance.
DEWAZAKURA OKA
"CHERRY BOUQUET"
Ginjo
Credited as being the sake that started the "Ginjo" sake boom, this well known sake has a soft feeling on the tongue. Oka's transparency of flavor also matches the clarity of this colorless liquor. It is floral rather than fruity, though there is a touch of pear and perhaps melon.

DEWAZAKURA DEWASANSAN
"GREEN RIDGE"
Junmai Ginjo
One of our most popular sake from Dewazakura, this sake begins with a floral nose and mellow fruity flavor. "Dewasansan" is a rewarding choice for wine drinkers who are new to the world of sake. It has wholesome freshness, a green apple tartness and a refreshing finish.

TAMAGAWA RED LABEL
"HEIRLOOM YAMAHAI GENSHU"
Junmai Nama
For those that like their sake a little "funky", we offer you this interesting selection created by that madman Phil Harper. Made with natural yeasts that thrive within Tamagawa's brewery, Red Label is rich in amino acids for robust flavor. Bottled right from the press without filtration, dilution or other intervention. Very special sake with a highly unusual taste!
So please join us this Saturday to sample the newly released Masumi Arabashiri along with some other great sake at the shop. See you then!
Kanpai,
Malcolm & Nadine Leong
The Sake Shop
ARABASHIRI
COMPLIMENTARY SAKE TASTING
Saturday, March 18, 2017
2:00 pm to 7:30 pm

What is Arabashiri?
Although we'll be sampling six different sake this Saturday, the tasting is really being built around one specific sake, Masumi Arabashiri. This is a seasonal sake that has just been released for Spring 2017.
It's name, "Arabashiri", means "First Run" and has to do with the part of the brewing process when the sake is first pressed.
During the sake making process, when the sake mash has finished fermenting, it is then pressed to filter the liquid from the sake lees, or unfermented rice. This process can be accomplished in a couple of different ways.

Yabuta Sake Press
Many breweries will use a large accordion like machine to press their sake. By pressing the mash in between several layers of panels, these machines can efficiently extract a large amount of sake.


Masumi "Fune" Press
Other breweries continue to use a more traditional method of pressing that utilizes a box called a "fune". Cloth bags are filled with sake mash and then laid in the box. A lid is pressed down causing the liquid to filter through the bags leaving the sake lees behind.
Now the liquid that is pressed out of the box can be divided into three different parts. Before applying any pressure, the weight of the bags themselves with some help from gravity causes a "free run" of sake to first flow out.
This first third of the pressing is called Arabashiri which translates to "First Run" or "Rough Run". This first pressing is indeed slightly rough and brash but very tasty. Be sure to try some of Masumi's Arabashiri this Saturday at the shop.

Uchigasaki (Hoyo) Sake Brewery
It's been a few years since we've had the pleasure of sampling Hoyo Kura no Hana Daiginjo. The maker of this fine sake is Uchigasaki Brewery. They are located in Miyagi prefecture and were founded in 1661 by Uchigasaki Sakuemon. They are the oldest sake brewery in Miyagi and continues to be family run.
Tomiya village where the brewery is located was built in 1620 by Sakuemon's father, Uchigasaki Oribe. Oribe was a samurai lord with the Date clan and had been ordered to build Tomiya village by the famous samurai warlord, Date Masamune. Masamune wanted a town built that was one day's march from Sendai on the road North to Aomori.
Little is known of those early days, and we can only surmise what the brewery's sake tasted like then. But today we know exactly what to expect when we see a bottle with the brewery's Hoyo label on it.

Uchigasaki Sake Brewery Workers
The sake inside will be gentle, reticent and charming, especially so in the case of ones made from regional rice strains like "Manamusume" and "Kura no Hana," which seem to lend themselves especially well to the brewery's delicately nuanced brewing style.
There are commentators who have called attention to the connection between sake and Buddhism, noting how, after all, it is the tiny microorganisms who do all the work, with human beings acting as mere coaches on the side.
Brewmaster Shoji Kano lets them do the work, but ensures that their every need is sincerely and attentively met. "If sakes were people," one enthusiast commented recently, "Kura no Hana daiginjo would be a young girl playing gaily in a meadow."
By aspiring to produce a label that is light, winsome and graceful, the Uchigasaki Sake Brewery has produced one of the very few "crossover" sakes in the United States: Even flinty burgundy-sippers light up with a smile at first sip.

Kamoizumi Sake Brewery
Kamoizumi Brewery is located in the Saijo area of Hiroshima prefecture. Compared to other breweries, Kamoizumi is relatively young having been founded around 100 years ago in 1912.
The brewery is known for brewing only junmai muroka sake. Junmai in this instance means no additional alcohol was added and muroka means the sake was not charcoal filtered as most sake are.

Kamoizumi Toji (Brewmaster)
The Maegaki family, who run the Kamoizumi brewery, started out as rice farmers who became landlords and then moved into "value added" areas such as rice milling and eventually sake brewing at the onset of the modern era in 1910.
In 1965, Kamoizumi became one of a pioneering group of ten breweries who committed to junmai sake production at a time when breweries all over Japan were heavy-handedly adding brewers alcohol to their vats to make as much money as possible.

Kamoizumi Saying
In 1971, Kamoizumi introduced its first junmai label. At the time, it was the practice to filter the pressed sake through charcoal to remove impurities and attain the pure, colorless state that was the aesthetic ideal. The Kamoizumi brewers felt, however, that these "impurities" were essential characteristics of the sake itself and that to remove them entirely was to compromise the essential nature of its identity.
---
Parking
Metered parking available on King Street, Kaheka Street & Liona Street.  Pay lot located behind our building. $2 for 1/2 hour Monday – Friday until 6pm and Saturdays until 2pm.  All other hours $2 for 5 hours (paybox).  Enter from Liona Street.  Unfortunately we are unable to  validate parking.
Hours of Operation  
10am to 8pm Mon – Sat
10am to 5pm Sun