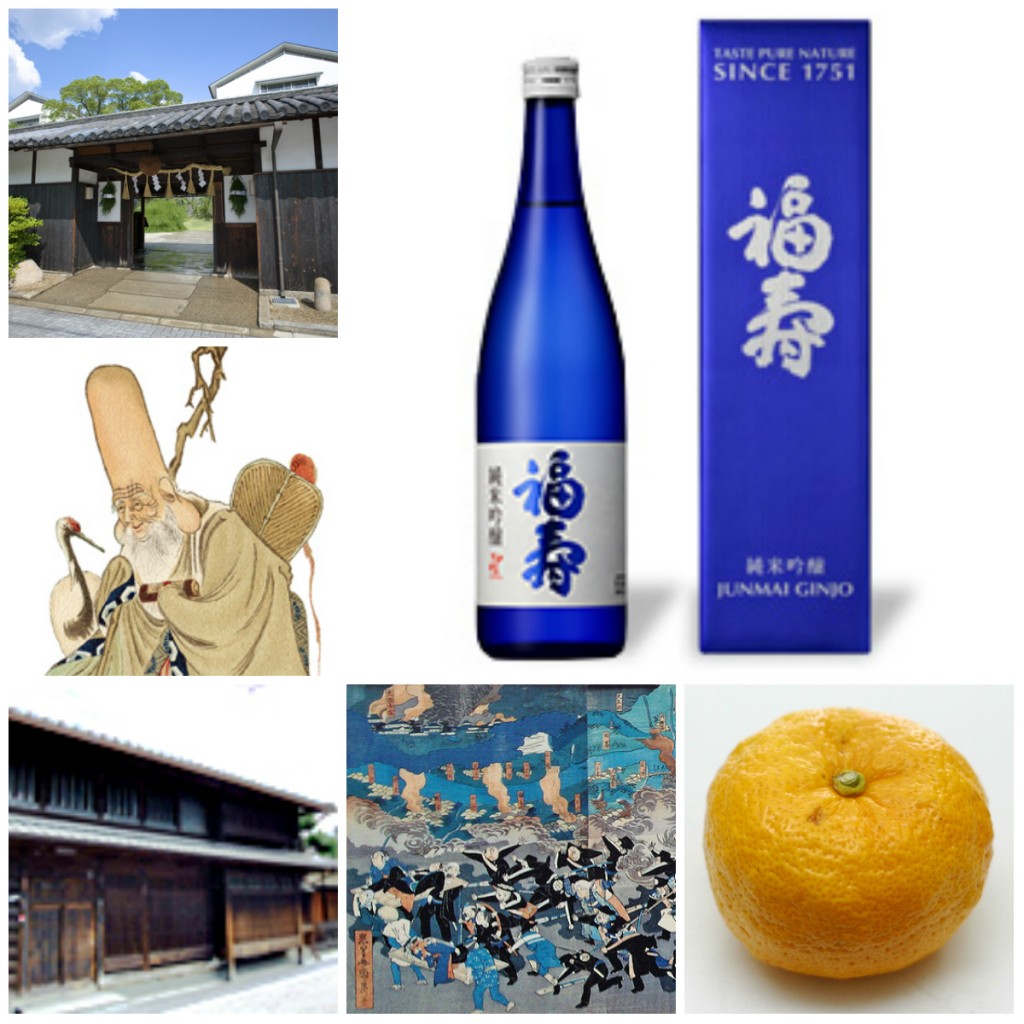 KURAMOTO U.S. SAKE TASTING
Well the end of Summer is upon us. Vacations are over, kids are back in school and another spectacular Joy of Sake event is complete. So what now you ask? Well, you know what we always say, when in doubt … hold a sake tasting. OK we don't always say that but it's good advice nonetheless.
Join us this Saturday for our Kuramoto US Sake Tasting. Kuramoto US is one of our Importers who bring in some great sake. They've happily agreed to host a tasting this Saturday with five tasty beverages for your sampling pleasure.
Two of these sake, Shinsei Junmai Daiginjo and Fukuju Junmai Ginjo, are brand new to the shop. Along with two solid Junmai sake and a yuzu infused sake, we've got all the makings of a great get together.
The tasting is complimentary as always. So please stop by the shop this Saturday and help us say goodbye to Summer. Hope to see you there!
KURAMOTO U.S. SAKE TASTING
Saturday, August 27, 2016
5:00pm to 8:00pm 

FUKUJU JUNMAI GINJO
Junmai Ginjo
This gorgeous blue bottle is a brand new sake to the shop. Fragrant and elegant, it has a well balanced aroma and fine mouth-feel taste. Lots of fruit, both on the nose and the palate. Looking forward to sampling this on Saturday.

 SHINSEI JUNMAI DAIGINJO
Junmai Daiginjo
Brand new to the shop, this sake begins with a cool and full aroma of rice blossoms in unison. As it touches the palate, a sensation that is mellow but yet delicate is experienced. Notes of marshmallow appeases your senses.
SHICHIDA JUNMAI
Junmai
This amazing Junmai sake from Saga prefecture is a GOLD winner at previous Joy of Sake events. The aroma is a calm synthesis of honey and green apples that contain a refined acidity to wrap up the palate. An elegant medium dry sake that we're looking forward to sampling once again.

CHIYOMUSUBI TOKUBETSU JUNMAI
Tokubetsu Junmai
Very food friendly sake and a favorite at the shop. Elegant on the palate with a crisp hint of spice. This tokubetsu junmai from Tottori prefecture is well balanced with a medium dry finish. Pairs well with fish, seafood and all food in general.

YUZU OMOI
Yuzu Infused Junmai
We sell a ton of this sake at the shop, as the yuzu flavor and lower alcohol content (7%) makes this go down like an ice cold lemonade on a hot day. It begins with a refreshing aroma of citrus fruit that continues comfortably on to the palate. The Junmai sake compliments the soft acidity that plays against the sweetness of the yuzu.
So please join us this Saturday to help us say goodbye to Summer. See you then!
Kanpai,
Malcolm & Nadine Leong
The Sake Shop
KURAMOTO U.S. SAKE TASTING
Saturday, August 27, 2016
5:00 pm to 8:00 pm

Kobe Shu-Shin-Kan Sake Brewery
(Fukuju Junmai Ginjo)
Kobe Shu-Shin-Kan Sake Brewery was established in 1751 in the Nada district of Kobe. Nada is an area of Japan that has been acknowledged for centuries as one of the best places for the production of Japanese sake.
The quality of the locally grown Japanese rice and the purity of the water filtered from streams high in the Rokko Mountains are special blessings, as they are essential to the brewing of sake.
Since their founding, they have maintained the motto "Quality Comes First." Taking pride in their work, they have overcome many obstacles and believe their products to be among the best available.


Kobe Shu-Shin-Kan Brewery Workers
In the belief that "great sake comes from great Koji (malted rice) the cultivation of which is the fundamental step in creating excellence", Fukuju produces by hand its Koji, in a Koji muro (special room where malted rice is cultivated) used for centuries in the brewing process.
Fukuju uses only the best sake rice cultivated by farmers in the northern region of Mount Rokko, the home of Yamadanishiki, Japan's finest sake rice. The sake is brewed with Miyamizu (water from Nishinomiya City), water that has been long valued as ideal for creating excellent sake.
Kobe Shu-Shin-Kan Brewery continues to use traditional handcrafting techniques to lovingly produce sake, with the same careful attention with which children are raised.

Fukurokuju
The name Fukuju is an abbreviation of Fukurokuju, one of the Seven Deities of Good Fortune, and was given to express the brewery's desire that those who drink Fukuju sake would be blessed with good fortune.

Yamamoto Honke Sake Brewery
(Shinsei Junmai Daiginjo)
Located in the Fushimi district of Kyoto, Yamamoto Honke was founded in 1677 by Genbee Yamamoto. Benefiting from the soft and rich spring water, Shiragikusui (water of white chrysanthemum) the brewery continues to produce excellent sake which is the perfect match for traditional Japanese cuisine.

Toba Fushimi Battle of 1868
In 1868, a great battle was fought in the Toba-Fushimi area between forces loyal to the Tokugawa shogun (supreme military commander) and the allied forces of the domains of Choshu, Satsuma and Tosa. The battle lasted for four days, ending in a decisive defeat for the Tokugawa shogunate forces.
This battle left scars in the beautiful scenery, and damage to almost every building in the region. The Yamamoto Honke Sake Brewery was one of those buildings, having been burned to the ground. With the great support and efforts of the local people, Yamamoto Honke rebuilt its brewery and resumed production within the same year.
"Shinsei" (??)
8th generation Genbee Yamamoto was well known for his talents and profound interest in "Sado" (Japanese Tea Ceremony) and "Waka" (Japanese Poetry) and associated closely with the Omote-Senke family and other notable figures of the era.
Genbee's associates included Tomioka Tessai, one of the most famous Japanese artists of the Nihonga style. In celebrating Genbee's marriage, Tessai took his brush and painted "Shinsei" ???), letters to give as a wedding gift. Today, the letters are used on the Shinsei label.

Yuzu Fruit
One of the sake we'll be sampling this Saturday is an infused sake called Yuzu Omoi. It is a Junmai sake that has been infused with the Japanese citrus fruit called Yuzu.
So what is Yuzu? Yuzu is a citrus fruit that can be found through out Asia and has a unique flavor similar to but not exactly the same as a lemon or orange.
Believed to come originally from China, Yuzu is rarely eaten as a fruit, and instead it's rind is often used much like a lemon rind would be when flavoring food.
---
Parking
Metered parking available on King Street, Kaheka Street & Liona Street. Pay lot located behind our building. $2 for 1/2 hour Monday – Friday until 6pm and Saturdays until 2pm. All other hours $2 for 5 hours (paybox). Enter from Liona Street. Unfortunately we are unable to validate parking.
Hours of Operation  
10am to 8pm Mon – Sat
10am to 5pm Sun