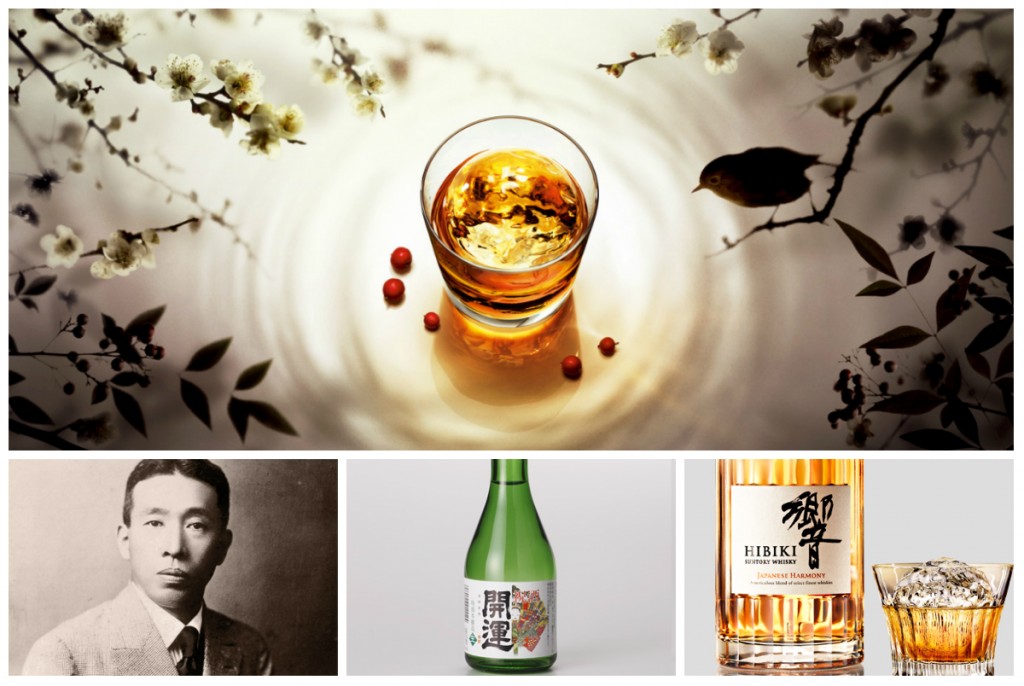 JAPANESE WHISKY
AND SAKE TASTING
We'll always be a sake shop first and foremost. However, many of you know that we also stock a small quantity of other select Japanese alcoholic beverages like umeshu and shochu. Recently after several requests, we began carrying a limited amount of Japanese whisky, and the response has been terrific.
So with the growing popularity of Japanese whisky, and the positive response we've been getting at the shop, we thought it would be the perfect time to hold a Japanese whisky tasting. And that's exactly what we'll be doing this Saturday (05/21) from 5pm to 8pm at the shop.
Scot Whigam, of Southern Wine and Spirits, has graciously agreed to host this event, and will be on hand to pour samples of some excellent Japanese whisky and answer all your questions. And this wouldn't be "The Sake Shop" if we didn't sample some sake as well, so along with the whisky, we'll be tasting two sake that are new to the shop, Kaiun Junmai Ginjo and Yoshinogawa Echigo Junmai.
Japanese whisky and Japanese sake. Not sure what else we can do to make this Saturday much better for you. So please join us this Saturday at the shop for our first Japanese whisky tasting. Should be a lot of fun. Hope to see you then!
Japanese Whisky
and Sake Tasting!
Saturday, May 21, 2016
5:00pm to 8:00pm
Hibiki Japanese Harmony
Luminous and delicate with a transparency that unveils complexity, this amber colored whiskey from Hibiki begins with a nose of rose, lychee, mild rosemary and a mature woodiness of sandalwood. On the palate you experience honey like sweetness, candied orange peel and white chocolate, and it finishes long and soft, with a hint of Mizunara (Japanese oak)
Nikka Pure Malt Taketsuru 
A blended malt named in honor of Masataka Taketsuru, the father of Japanese whisky. Its gentle malt flavor, fruitiness and extremely well-balanced taste make it a perfect entry point into the world of Nikka.

Mars Iwai
Kiichiro Iwai, the namesake for this Mars Whisky, was a silent pioneer of Japanese whisky. This whisky is inspired by great whiskies of America. A majority of corn balanced with light malt aged in ex bourbon barrels. Ideal for daily sipping, in a mint julep or an old fashioned, it is sweet with fruit flavors like pear, quince and hints of red fruits and vanilla.

Yoshinogawa Echigo Junmai
JUNMAI
New to the shop, this great tasting Junmai sake is named "Echigo" in honor of the ancient region that is now known as Niigata. Lovely water notes express the rich mountain region of Niigata, while citrus and spice overtones suspended in buttery sweetness highlight the brewer's skill. It's the perfect duality of sweet and savory making it an incredibly versatile brew.

Kaiun Junmai Ginjo
JUNMAI GINJO
Also new to the shop, this Junmai Ginjo from Shizuoka prefecture is actually milled down to Daiginjo levels although sold as a Junmai Ginjo. Made using Yamadanishiki rice, it is a great full bodied sake with aromas of ripe melon and pear on the nose and a clean and crisp finish.
Please join us this Saturday for our Japanese Whisky and Sake Tasting. It should be a lot of fun! See you then!
Kanpai,
Malcolm & Nadine Leong
The Sake Shop
Japanese Whisky
and Sake Tasting!
Saturday, May 21, 2016
5:00 pm to 8:00 pm

Shinjiro Torii
In 1923, Shinjiro Torii, envisioned a whisky filled with the essence of Japanese nature and hand-crafted by artisans through a patient process of enhancing the work of nature.
He dreamt of creating subtle, refined, yet complex whisky that would suit the delicate palate of the Japanese and enhance their dining experience.


Yamazaki Distillery Circa 1923
Inspired by traditional Scottish whisky, Torii envisioned a Japanese approach by choosing a terrain and climate completely different from those of Scotland. Torii chose the region of Yamazaki, Kyoto as the birthplace of Japanese whisky.


Hibiki Japanese Harmony
"Kanzen" or complete, Hibiki Whisky is a harmonious blend of innumerous malt and grain whiskies which are meticulously blended to create a full orchestra of flavors and aromas.
Seductive, blossoming and enigmatic, Hibiki Whisky celebrates an unrivaled art of blending, fine craftsmanship and a sense of luxury from the House of Suntory.
Hibiki Whisky is not only Japan's most highly awarded blended whisky, but among the most prestigious and honored whiskies in the world.


Masataka and Rita 1920
In 1918, Masataka Taketsuru, the founder of Nikka Whisky, embarked alone on a long voyage to Scotland. It was here that the secrets of whisky making would be imparted to this young Japanese man, and it was also here that he would meet the woman who would become his bride.
Masataka Taketsuru was born in the coastal town of Takehara, about 60km from Hiroshima City. The Taketsuru family owned a sake brewery that was founded back in 1733, and continues to produce fine sake today.
However, it was Scotch whisky that had captured the young man's imagination, as well as the interest of a few other enterprising Japanese of that day. He decided to dedicate his life to whisky, and later founded Nikka Whisky.


Yoichi Distillery (Nikka)
Of Nikka's two whisky distilleries, Yoichi produces rich, peaty and masculine malt. The whisky gets its distinct aroma and body from direct heating distillation, in which the pot stills are heated with finely powdered natural coal, the traditional method that is hardly ever used today, even in Scotland.

Yoshinogawa Sake Brewery
Founded in 1548, Yoshinogawa Sake Brewery has a tradition of brewing sake that dates back more than 460 years. It is the oldest sake brewery in Niigata prefecture.
Yoshinogawa Well Water
Underground water from Japan's largest river, the Shinano, and melted snow water from the Nagaoka Eastern Mountain range mingle together deep below the surface of the earth and gush forth from a well in the brewery grounds.
This underground spring, known as the "Tenka-Kanrosen", produces a small volume of soft water with a perfect balance of minerals. This special water is the vital ingredient in Yoshinogawa's sake, making it clean and smooth to the taste.

Yoshinogawa Brewery Workers
The brewers who make the sake are also the farmers who grow the rice used to make the sake. With their thorough knowledge of the role of rice in sake brewing, they brew sake using rice known as "kurabito saibaimai" or brewer's rice which they themselves have worked hard to grow.

---
The Sake Shop
1461 S. King Street
Honolulu, HI 96814
Ph (808) 947-7253
Fax (808) 947-7254
sakeshophawaii@gmail.com
www.sakeshophawaii.com
Twitter @sakeshop
Facebook The Sake Shop
Map: 
maps.google.com/maps
Parking
Metered parking available on King Street, Kaheka Street & Liona Street. Pay lot located behind our building. $2 for 1/2 hour Monday – Friday until 6pm and Saturdays until 2pm. All other hours $2 for 5 hours (paybox). Enter from Liona Street. Unfortunately we are unable to  validate parking.
Hours of Operation  
10am to 8pm Mon – Sat
10am to 5pm Sun