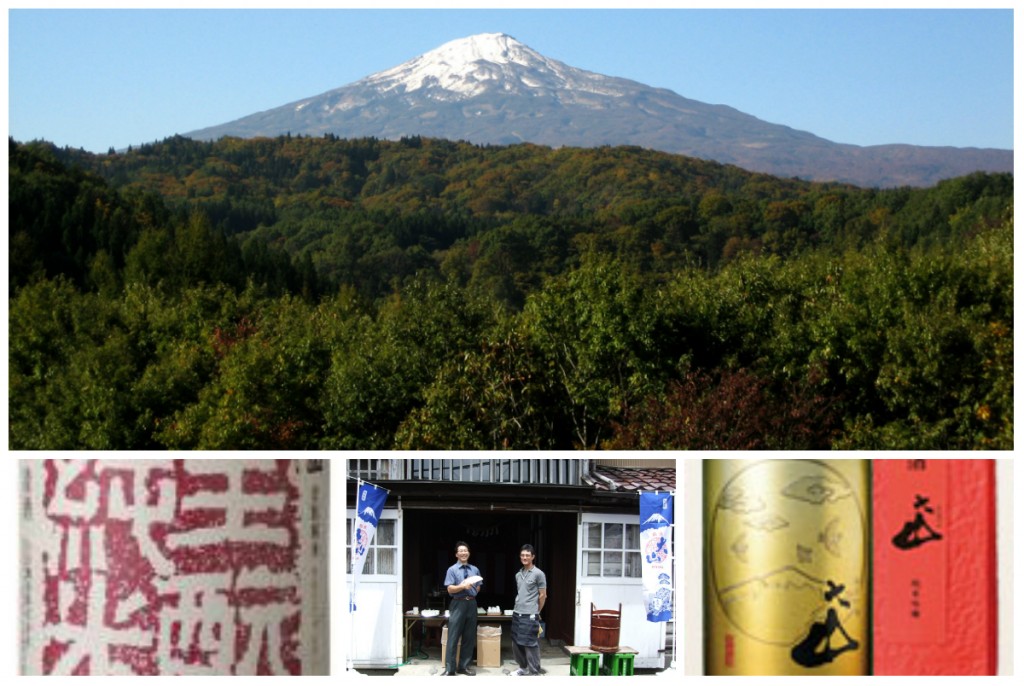 BIG MOUNTAIN SAKE TASTING
Our next sake tasting is going to be all about MOUNTAINS!  Big, grand majestic mountains. Wait you say, are we sampling sake this Saturday or going mountain climbing? Well, maybe a little of both …
Join us this Saturday (04/23) for our Big Mountain Sake Tasting, where we'll be featuring sake from Ohyama and Taiheizan. Ohyama literally means "Big Mountain" and Taiheizan translates to "Grand Mountain".
Both of these "Mountain" breweries put out a delicious line of sake. We'll be sampling five of their best, including a 10 consecutive year gold medal winner, Taiheizan Tenko Junmai Daiginjo!
Dan Fullick from Chambers and Chambers will be here to pour these wonderful sake and answer all of your questions. Please come by and join us for what should be a great sake tasting!
BIG GRAND MOUNTAIN
COMPLIMENTARY SAKE TASTING
Saturday, April 23, 2016
4:00pm to 8:00pm 
  
OHYAMA FU-IN
"Sealed Sake"
Junmai Ginjo 
Don't let the mysterious red bag fool you, there's a great bottle of sake hiding in there. This sake from Ohyama is made exclusively for our importer, and it begins with the fruity aroma of apple, pear and steamed rice. Very smooth, rich and expansive fruity flavor and perfect for gift giving since it already comes prewrapped.

OHYAMA TOMIZU
"Big Mountain Classic"
Tokubetsu Junmai
Not your typical junmai sake, this one from Ohyama begins with deep and complex aromas of fruits and grain. Thick and juicy flavor of fruits harmonized with matured savory flavor and crisp acidity.
OHYAMA TOKUBETSU JUNMAI
"Big Mountain"
Tokubetsu Junmai
Light and smooth with clean aromas of fruit and grain. This sake has a round mild sweetness that is nicely balanced with a pleasant acidity.  Finishes dry and crisp.
 TAIHEIZAN TENKO
"Heavenly Grace"
Junmai Daiginjo
This flavorful sake begins with moderate aromas of cantaloupe, watermelon, apple and grapes. Elegant fruity flavors all the way through with a well balanced and full finish. One of our favorites at the shop, this sake has won gold at the U.S. National Sake Appraisals 10 times in a row.
TAIHEIZAN KIMOTO JUNMAI
"Grand Mountain"
Kimoto Junmai
We'll be sampling this for the first time at the shop this Saturday. Creamy aroma harmonized with ripe fruit. Full bodied sake with smooth texture. Nicely balanced with fruity aftertaste.
So please join us this Saturday to sample some Big, Grand Mountain sake! See you then!
Kanpai,
Malcolm & Nadine Leong
The Sake Shop
BIG GRAND MOUNTAIN
COMPLIMENTARY SAKE TASTING
Saturday, April 23, 2016
4:00 pm to 8:00 pm

Kato Kahachiro Brewery
Ohyama sake is made by Kato Kahachiro Brewery and is named after a town in Yamagata called "Ohyama-cho" where the sake brewery is located.
Ohyama means "Big Mountain", which is why it's no surprise that the town of Ohyama-cho is located near a VERY BIG MOUNTAIN called Mount Chokai.

The Ohyama district is famous for being the top sake brewing area in Eastern Japan since the Edo period. Originally there were over 40 sake breweries in the area, but most of them were destroyed in a large fire in 1884.
Currently only 4 breweries continue to brew sake in the area, with Kato Kahachiro brewery and it's Ohyama sake being the most well known. Kato Kahachiro brewery was founded way back in 1872, making it well over 100 years old.


Automatic Mash Mixer
Besides making delicious sake, Kato Kahachiro Brewery is also known as the inventor of some very interesting sake brewing equipment.
All of this equipment was created "in house" which allowed them to create modern machines that to some degree still followed their traditional methods.
They invented an automatic mash mixing machine that allows the brewmaster to easily control the duration time, speed, and strength when mixing the mash.  This was the first of it's kind in Japan.


They also created an automatic fermentation machine with a natural convection system and a koji making machine that was much easier to control than other machines.
As a result of this innovation, Kato Kahachiro Brewery is able to stabilize the quality of their sake much easier and brew it more accurately and efficiently

Ohyama's sake rice is grown in the Shonai fields surrounded by the majestic Mount Chokai and the Dewa and Asahi mountains. The area is blessed with an abundance of clean water and rich fertile soil.


Kodama Sake Brewery (Taiheizan)
Kodama Brewing Company is located in Akita prefecture and was founded in 1879. The family owned company started out making soy sauce and miso before it began brewing sake in 1913.
The brewery uses the "Akita Kimoto" method to brew their sake, the oldest and original method of sake brewing, where lactic bacteria is used to cultivate the yeast during the fermentation process and wooden oars are used to make the starter mash.
This method is a very labor intensive and time consuming process. Taiheizan sticks to this "old school" style of sake brewing because it strives to maintain the traditional taste of sake, which has been carried on through generations.


Taiheizan Sake Brewing Tanks
Taiheizan means "Grand Mountain" and refers to Mount Taihei, the tallest mountain in Akita prefecture. Their award winning Junmai Daiginjo sake "Tenko" translates to "Heavenly Grace".
Taiheizan has consistently won numerous gold medals in the Monde Selection, the Japan Annual National Sake Competition and in the U.S. National Sake Appraisals.
---
Parking
Metered parking available on King Street, Kaheka Street & Liona Street. Pay lot located behind our building. $2 for 1/2 hour Monday – Friday until 6pm and Saturdays until 2pm. All other hours $2 for 5 hours (paybox). Enter from Liona Street. Unfortunately we are unable to validate parking.Hours of Operation  
10am to 8pm Mon – Sat
10am to 5pm Sun