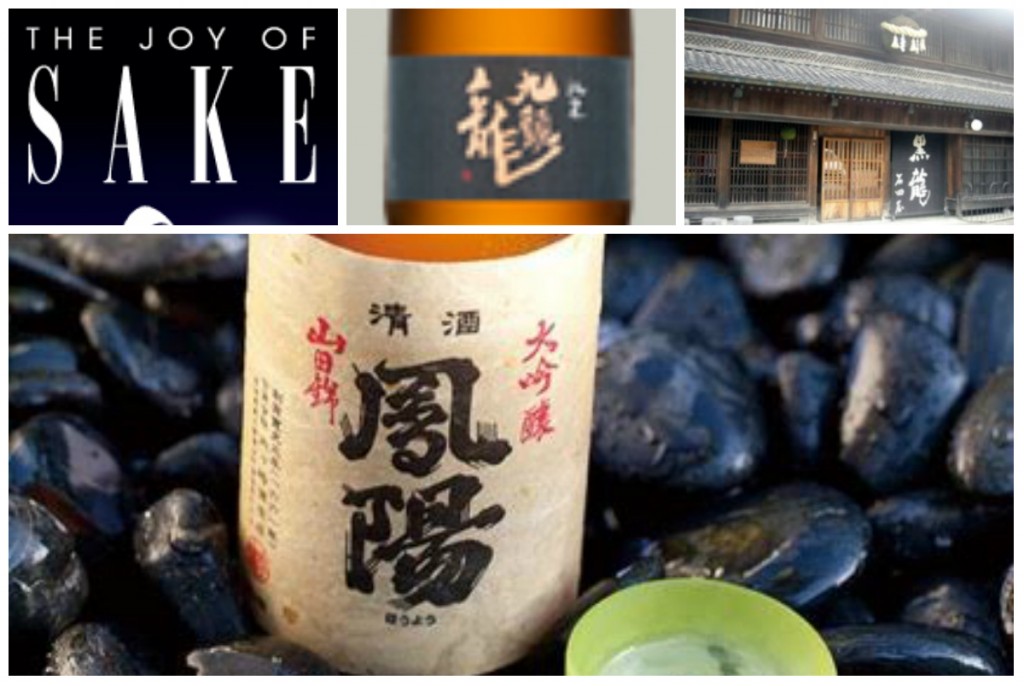 JOY OF SAKE 2015
GOLD WINNERS AND
A NINE HEADED DRAGON
SAKE TASTING!
What's that you say? You'd love to sample some tasty Joy of Sake Gold Winners, but you're not so sure about sharing it with a Nine Headed Dragon. Is this a sake tasting or a Game of Thrones episode?
Fear not my sake friends, it is most definitely a sake tasting! In fact the Nine Headed Dragon or "Kuzuryu" is actually a brand new sake from Kokuryu, and we'll be sampling it for the first time in Hawaii this Saturday at the shop.
Oh and that's just the beginning. We'll be sampling a total of TEN different sake this Saturday. Eight of them areGOLD winners from this years Joy of Sake event, one of them is brand new to Hawaii and the last one is an old favorite that we thought we'd never see again.
Some of you may remember Hoyo Yamadanishiki or "Last Chance at Love". A limited quantity of this high end sake was brought in by special purchase after the 2011 Tohoku Earthquake and Tsunami. That purchase was supposed to have been the only time we'd ever get this sake in the US. Well, sometimes it's nice to be wrong!
Our Dragon Tamer, Mr. Yoshiharu Suzuki, from World Sake Imports will be here this Saturday to let you sample all of these exquisite brews. Gold winners, a nine headed dragon and a long lost friend. Sounds like the perfect way to spend a Saturday afternoon. See you then!
JOY OF SAKE 2015
GOLD WINNERS AND
A NINE HEADED DRAGON
SAKE TASTING
Saturday, October 3, 2015
2:00pm to 7:30pm
KOKURYU KUZURYU
"THE NINE HEADED DRAGON"
**NEW TO HAWAII**
Junmai
Fukui brewers' skills with "500 Mangoku" rice is evident with this lovely release. Light bodied yet beguilingly full flavored, making for a truly satisfying junmai drinking experience. Brand new to Hawaii from Kokuryu!

HOYO YAMADANISHIKI
"LAST CHANCE AT LOVE"
Daiginjo
We weren't supposed to ever get this wonderful sake again, but here it is! Gentle, smooth and lovely, this rare sake reveals its charms gradually. The enticing aroma slips perfectly into a swirl of flavors that includes peach, spice and anise. Having matured gracefully with aging, this lovely sake is now at its peak.

KOSHI NO KANBAI KINMUKU
"MILKY WAY"
Junmai Daiginjo
Usually a "restaurant only" sake that is not available for retail sale. Refined yet full of flavor, "Kinmuku" has an evocative flavor to chew on, a slight natural sweetness and underlying it all, the taste and feel of clear, pure spring water.

KOSHI NO KANBAI TOKUSEN
"VANISHING POINT"
Ginjo
From the very first sip, this "Restaurant Only" sake displays a variety of subtle, ineffable flavors, which converge and diffuse just on the edge of the mind's awareness. Its elusive nature has given Koshi no Kanbai the nickname "The Phantom Sake".

DEWAZAKURA DAIGINJO
"MOUNTAIN CHERRY"
Daiginjo
Wonderfully mild sake from our friends at Dewazakura, this sake is reminiscent of softly melting snow. It has a mild floral fragrance, revealing notes of peach and apricot at mid-range, concluding with a light and slightly dry finish.
DEWAZAKURA OKA
"CHERRY BOUQUET"
Ginjo
Credited as being the sake that started the "Ginjo" sake boom, this well known sake has a soft feeling on the tongue. Oka's transparency of flavor also matches the clarity of this colorless liquor. It is floral rather than fruity, though there is a touch of pear and perhaps melon.
DEWAZAKURA OKA YAMADANISHIKI
"CHERRY BOUQUET SELECT VINTAGE"
Ginjo
Dewazakura Oka is already a favorite of many of you here in Hawaii. Well if you thought the regular Dewazakura Oka was amazing, wait until you try it's Big Brother, Dewazakura Oka Yamadanishiki! Soft, supple and fragrant, like a Summer breeze wafting above the pear blossoms, you won't want to miss this premium version of the classic Oka!

DEWAZAKURA DEWASANSAN
"GREEN RIDGE"
Junmai Ginjo
One of our most popular sake from Dewazakura, this sake begins with a floral nose and mellow fruity flavor. "Dewasansan" is a rewarding choice for wine drinkers who are new to the world of sake. It has wholesome freshness, a green apple tartness and a refreshing finish.
MASUMI OKUDEN KANTSUKURI
"MIRROR OF TRUTH"
Junmai
Longtime sake drinkers find this sake comfortingly familiar. It is smooth at first sip and displays a range of subtle, organic flavors as well as a pleasant natural sweetness. Great beginner sake or when you're looking for something simple and easy to drink.
KAMOIZUMI SHUSEN
"THREE DOTS"
Junmai
A wild card in the sake deck, Kamoizumi Shusen has a wonderfully woodsy, forest-floor aroma of fall leaves and mushrooms. There is a lot to explore with this big boned sake, which some people feel is at it's best served warm. (I believe Yoshi will be serving this chilled and warm.)
So be sure to stop by the shop this Saturday to sample some Gold Winners and get your "Dragon" on. I can think of worse ways to spend an afternoon than sipping on TEN incredibly delicious sake! Hope to see you then!
Kanpai,
Malcolm & Nadine Leong
The Sake Shop
JOY OF SAKE 2015
GOLD WINNERS AND
A NINE HEADED DRAGON
SAKE TASTING
Saturday, October 3, 2015
2:00 pm to 7:30 pm

Kokuryu Sake Brewery
Kokuryu's founder, Nizaemon Ishidaya, built the original brewery in 1804 in the vicinity of Eihei-ji, the main temple of the Soto Zen Buddhist sect which is located in Fukui prefecture. Nizaemon's descendants have been making sake there ever since.
Among the soft-water breweries of Japan, Kokuryu is perhaps the most famous. Its water is drawn from the subterranean flow of of Kuzuryugawa (Nine-Headed Dragon River) famed since ancient times for its delicious taste.


Sake made from soft water tends to pick up subtle flavor nuances that are not detectable in the crisp, dry sakes made from mineral-rich hard water. At the ginjo level they are multi-layered and complex, and It is not always easy to describe their qualities in words.
Kokuryu labels resound with deep flavor, but what makes them unique is their overall finesse. Often sakes with a big flavor profile become muddied by amino acids and other fermentation byproducts and lack clarity.
Somehow Kokuryu manages to avoid this, bringing rich flavor and delicate balance together in a unique expression of the sake-maker's art.

Uchigasaki Sake Brewery
A very special Daiginjo sake we'll be sampling this Saturday is Hoyo Yamadanishiki or "Last Chance at Love". The maker of this fine sake is Uchigasaki Brewery. They are located in Miyagi prefecture and were founded in 1661 by Uchigasaki Sakuemon. They are the oldest sake brewery in Miyagi and continues to be family run.
Tomiya village where the brewery is located was built in 1620 by Sakuemon's father, Uchigasaki Oribe. Oribe was a samurai lord with the Date clan and had been ordered to build Tomiya village by the famous samurai warlord, Date Masamune. Masamune wanted a town built that was one day's march from Sendai on the road North to Aomori.
Little is known of those early days, and we can only surmise what the brewery's sake tasted like then. But today we know exactly what to expect when we see a bottle with the brewery's Hoyo label on it.

The sake inside will be gentle, reticent and charming, especially so in the case of ones made from regional rice strains like "Manamusume" and "Kura no Hana," which seem to lend themselves especially well to the brewery's delicately nuanced brewing style.
There are commentators who have called attention to the connection between sake and Buddhism, noting how, after all, it is the tiny microorganisms who do all the work, with human beings acting as mere coaches on the side.
Brewmaster Shoji Kano lets them do the work, but ensures that their every need is sincerely and attentively met. "If sakes were people," one enthusiast commented recently, "Kura no Hana daiginjo would be a young girl playing gaily in a meadow."
By aspiring to produce a label that is light, winsome and graceful, the Uchigasaki Sake Brewery has produced one of the very few "crossover" sakes in the United States: Even flinty burgundy-sippers light up with a smile at first sip.


Miyasaka (Masumi) Sake Brewery
The Miyasaka family originally served as retainers to the Suwa clan who ruled the area at that time. However, following years of strife between the Suwa clan and the warlords Takeda Shingen and Oda Nobunaga,  the family gave up their swords and turned to sake making.
The brewery was firmly established by 1662 and had done well enough to gain the praise of several historical figures including the 6th son of Shogun Tokugawa Ieyasu and Otaka Gengo, one of the famous 47 Ronin.


Masumi Bronze Mirror
Miyasaka Brewery began using the name "Masumi" for their sake at the end of the Edo period (1603-1867). Masumi, which means "truth" or "transparency", is the name of an 8th century bronze mirror that is kept at the Suwa Taisha Shinto Shrine.
The Miyasaka family provided the shrine with sake for centuries so it was only fitting that that their sake took the name of the shrine's "Masumi Mirror".


Masumi's Yeast #7
In 1946, Masumi achieved great prominence when Brewmaster, Chisato Kubota, discovered a lovely aroma emanating from one of the brewery's fermentation tanks. An expert from the National Research Institute of Brewing was called in and it was soon confirmed that a new yeast variety, Association No. 7, had been discovered.
In the sake world, discovering a new yeast is like receiving the Nobel Prize, and only a handful of breweries enjoy this distinction. With its gentle, pleasing aroma and ease of use, Yeast No. 7 soon spread beyond Nagano prefecture, and today continues to be used by over half of the breweries in Japan.


Kamoizumi Sake Brewery 
Kamoizumi Brewery is located in the Saijo area of Hiroshima prefecture. Compared to other breweries, Kamoizumi is relatively young having been founded around 100 years ago in 1912.
The brewery is known for brewing only Junmai muroka sake. Junmai in this instance means no additional alcohol was added and muroka means the sake was not charcoal filtered as most sake are. 

Kamoizumi Toji (Brewmaster) 
The Maegaki family, who run the Kamoizumi brewery, started out as rice farmers who became landlords and then moved into "value added" areas such as rice milling and eventually sake brewing at the onset of the modern era in 1910.
In 1965, Kamoizumi became one of a pioneering group of ten breweries who committed to junmai sake production at a time when breweries all over Japan were heavy-handedly adding brewers alcohol to their vats to make as much money as possible.


Kamoizumi Saying
In 1971, Kamoizumi introduced its first junmai label. At the time, it was the practice to filter the pressed sake through charcoal to remove impurities and attain the pure, colorless state that was the aesthetic ideal. The Kamoizumi brewers felt, however, that these "impurities" were essential characteristics of the sake itself and that to remove them entirely was to compromise the essential nature of its identity.

---
The Sake Shop
1461 S. King Street
Honolulu, HI 96814
Ph (808) 947-7253
Fax (808) 947-7254
sakeshophawaii@gmail.com
www.sakeshophawaii.com
Twitter @sakeshop
Facebook The Sake Shop
Map: 
maps.google.com/maps
Parking
Metered parking available on King Street, Kaheka Street & Liona Street.  Pay lot located behind our building. $2 for 1/2 hour Monday – Friday until 6pm and Saturdays until 2pm.  All other hours $2 for 5 hours (paybox).  Enter from Liona Street.  Unfortunately we are unable to  validate parking.
Hours of Operation  
10am to 8pm Mon – Sat
10am to 5pm Sun