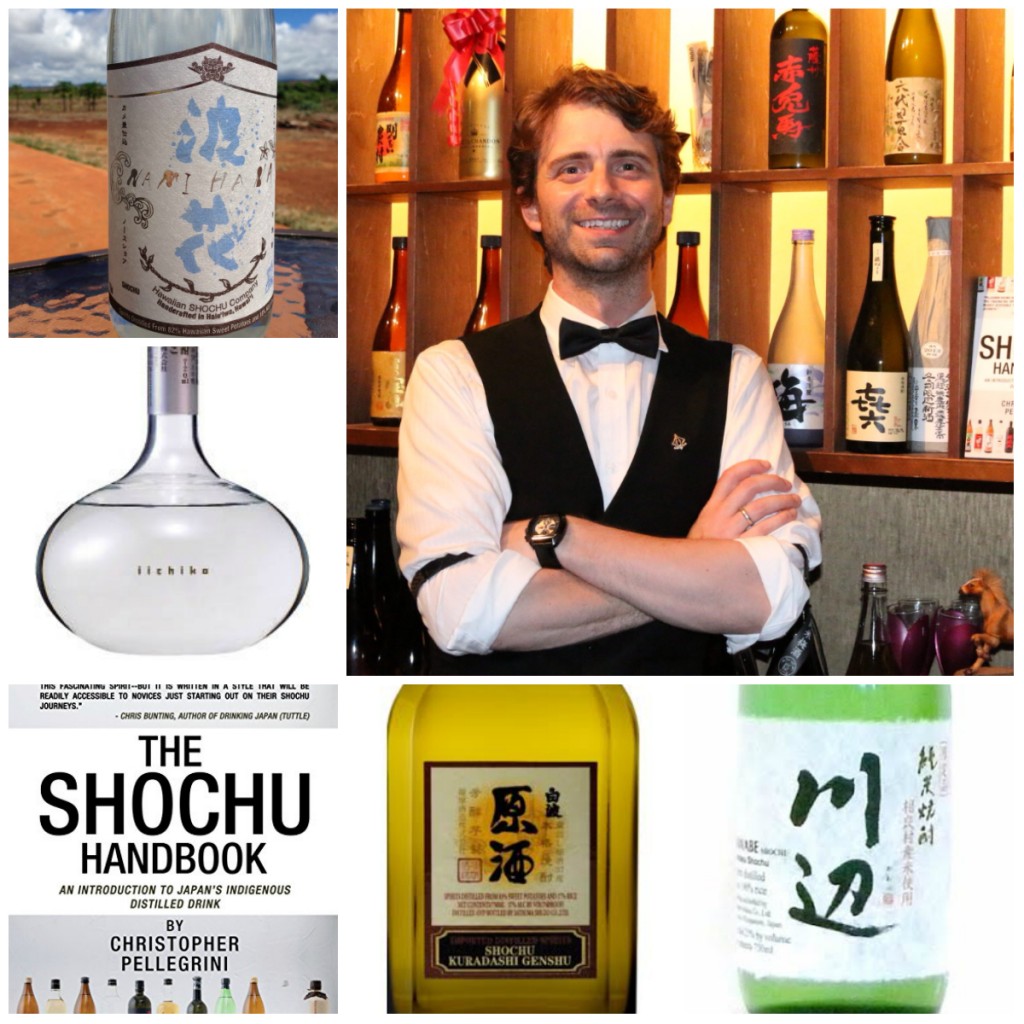 THE SHOCHU HANDBOOK AND NAMIHANA SHOCHU TASTING!
We are hosting an extremely unique tasting this Sunday at the shop (02/15), something of a first for us and definitely something you won't want to miss. First, it's on a SUNDAY which is right off the back unusual for us. Second, it's a shochu tasting not a sake tasting. Finally we are privileged to have Mr. Christopher Pellegrini pouring shochu and answering your questions during this tasting. Mr. Pellegrini  is the "Shochu Guru" and author of The Shochu Handbook.
And if all of that wasn't enough (and it should well be), we'll be sampling and selling a very limited quantity of Hawaii's own Namihama Shochu! Most of you are already aware of this, but for those of you who aren't, Namihana is distilled in such limited quantities that it is normally not available for retail sale in Hawaii. It is usually a restaurant only shochu, but we have received special permission from the owner (who will be at the tasting as well) to sample and sell a limited amount of bottles this Sunday.
Not sure what else we could add to this extravaganza to make it any more enticing. My wife said no to dancing girls and Katy Perry hasn't responded to my emails, so this will have to suffice. Four different premium shochu for sampling including the elusive Namihana and oh yeah, we forgot to mention that Mr. Pellegrini will have copies of his book for sale (cash only please) and will be happy to sign them for you. This should be one to remember. See you this Sunday!
THE SHOCHU HANDBOOK AND
NAMIHANA SHOCHU TASTING!
Sunday, February 15, 2015
2:00pm to 4:00pm
NAMIHANA
Imo Shochu (Sweet Potato)
OAHU, HAWAII
Normally never available for retail sale and locally distilled using Hawaii grown sweet potato, Namihana is a premium local shochu that you won't want to miss. We're officially sampling it for the first time at the shop and we couldn't be happier.

IICHIKO FRASCO
Mugi Shochu (Barley)
OITA PREFECTURE
This barley shochu is a blend of atmospheric and low pressure distillates meaning that it is a balanced, easy-sipper even at 30% ABV. Unlike the other shochu listed here, Frasco doesn't use rice as it's foundation. Instead, barley is used at all stages of the koji prep and fermentation processes. Drink this one the rocks or with water, and pair it with anything from sushi to steak to dumplings. (Tasting notes by Christopher Pellegrini)

SATSUMA SHIRANAMI GENSHU
Imo Shochu (Sweet Potato)
KAGOSHIMA PREFECTURE
Genshu means that this shochu from Kagoshima Prefecture remains at it's distillation ABV of 37%. In other words, it has not been diluted down to the most common shochu bottling ABV of 25%. Even though it's 74 proof, this genshu maintains a sweetly complex flavor profile. Made from the most popular sweet potato varietal, kogane sengan, this shochu can be enjoyed on the rocks or with water. It pairs easily with chicken and pork dishes. (Tasting notes by Christopher Pellegrini)
KAWABE
Kome Shochu (Rice)
KUMAMOTO PREFECTURE
An excellent rice shochu from Kumamoto Prefecture, Kawabe pairs well with vegetable dishes, sashimi, and crab. Best served on the rocks or with a splash of cool water, Kawabe exhibits hints of melon and banana. Due to the use of low pressure distillation, this hinohikari rice shochu is smooth and a good starting point for people new to the drink. 25% ABV. (Tasting notes by Christopher Pellegrini)
So please join us this SUNDAY for a very unique shochu tasting. Stop by and chat with sake guru Christopher Pellegrini and sample some quality shochu. We'll see you then!
Kanpai,
Malcolm & Nadine Leong
The Sake Shop
THE SHOCHU HANDBOOK AND
NAMIHANA SHOCHU TASTING!
Sunday, February 15, 2015
2:00 pm to 4:00 pm

Christopher Pellegrini
Christopher Pellegrini happened upon shochu more than a decade ago, and his curiosity was piqued by the dearth of published information about it. Many years of distillery visits, palate refining, and test taking later, he became one of the few Certified Shochu Sommelier to be born outside of Japan.
He now spends his time conducting shochu and awamori tastings, writing for various food and drink publications, and consulting restaurants, bars, and distributors on how to bring these drinks into the fold.


A native of Vermont, Christopher spent several years working for Otter Creek Brewing where he eventually inhabited the night brewing shift. Little did he know that his experience making good beer would lead him to a career in another high quality drink thousands of miles away.
After a year in Spain and two in South Korea, Christopher moved to Tokyo, Japan in 2002, where a distinct lack of craft beer sent him straight into shochu's open arms.

He has since found a home talking about Japanese food and drinks for an international audience, hosting two web series that cater to Japan's culinary fans around the world. He has also been published in print and online outlets. Most recently in 2014 he authored and released a book called "The Shochu Handbook" which will be available for sale and signature this Sunday.
What is Shochu?
OK, so you've finally begun to get a handle on sake and all it's quirks and nuances, and now you're asking yourself what the heck is this "shochu" we plan to sample on Sunday.
Unlike sake which is brewed like a beer, shochu is a distilled beverage. Basically that means after an initial fermentation process like sake, shochu is "heated" and refined, resulting in a beverage with a much higher alcohol level and different flavor profile.
More like a vodka than a sake, shochu usually has an alcohol content around 25 to 30% compared to sake's average 15 to 16%.  It can be made using rice, but it is also made from other items such as barley and sweet potato.
It can be consumed "neat" at room temperature, chilled with ice or mixed with water.  Some people even like it mixed with fruit juices or oolong tea. We'll let Mr. Pellegrini decide on the best way for you to sample it this Sunday.


Hawaiian Shochu Company
There is no way to describe to you how happy we are to be sampling Namihana Shochu this Sunday. We have been big fans of the Hawaiian Shochu Company ever since Ken Hirata and his wife Yumiko founded it in 2013.
Namihana is a premium Hawaiian Imo (sweet potato) shochu that is brewed, distilled and bottled in Haleiwa, Hawaii. It is one of only two shochu distilleries in the US. Mr. Hirata's shochu is handcrafted using traditional techniques of the "Kurose Brewmasters" of Kagoshima, Japan.
Koshiki Rice Steamer
He steams his rice in a wooden steamer called "Koshiki", then it is cultured to make Koji-rice. The mash of Koji-rice and steamed sweet potatoes is slowly and naturally fermented in century-old ceramic vats called Kametsubo. Namihana is distilled only one time using a traditional wooden still called Kidaru.

Koji-Rice
So why did Mr. Hirata decide to make shochu here on Oahu? Well, Hawaii's year-round warm climate is very similar to Kagoshima's fall season when Imo Shochu is produced. The volcanic soil here is also ideal for growing quality sweet potatoes.
The sweet potatoes themselves are considered a traditional crop here in Hawaii, and there are over twenty varieties grown, making it an ideal place for crafting Imo Shochu. (Mr. Hirata plans to be at our tasting this Sunday as well so be sure to say hi.)

---
The Sake Shop
1461 S. King Street
Honolulu, HI 96814
Ph (808) 947-7253
Fax (808) 947-7254
sakeshophawaii@gmail.com
www.sakeshophawaii.com
Twitter @sakeshop
Facebook The Sake Shop
Map: 
maps.google.com/maps
Parking
Metered parking available on King Street, Kaheka Street & Liona Street.  Pay lot located behind our building. $2 for 1/2 hour Monday – Friday until 6pm and Saturdays until 2pm.  All other hours $2 for 5 hours (paybox). Enter from Liona Street. Unfortunately we are unable to  validate parking.
Hours of Operation  
10am to 8pm Mon – Sat
10am to 5pm Sun