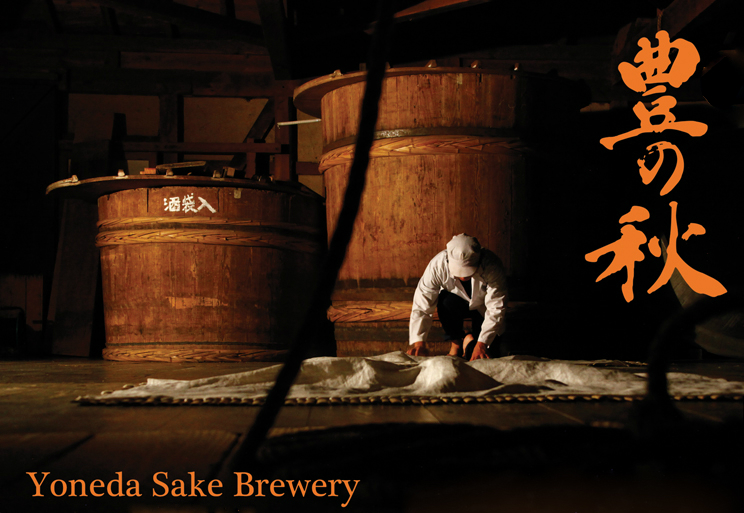 TOYONOAKI SAKE TASTING!
2015 JANUARY TO DO LIST
1.  Recycle Christmas tree – CHECK!
2.  Finish eating Christmas cookies – CHECK!
3.  Clean up the Sake Shop – SORTA CHECK!
4.  Start working out at the gym – NO COMMENT!
5.  Schedule the first sake tasting of the New Year –DOUBLE CHECK!
While we're still not fully recovered from a very busy holiday season (Thank you all very much for your patronage!), it's time to get back in the saddle and get the New Year started. What better way to kick things off than with our first sake tasting of the 2015!
Join us this Saturday (01/24) for our Toyonoaki Sake Tasting, where we'll be sampling two sake from Toyonoaki (Yoneda Sake Brewery) that are new to our shop. We'll be also be tasting a wonderful Daiginjo and a peach infused sake from our friends at Kamikokoro. Throw in an awesome Junmai Ginjo from Shirataki and we've got all the makings of a great sake tasting!
Mr. Dan Fullick of Chambers and Chambers will be hosting this tasting. He'll be at the shop this Saturday pouring sake and answering all of your sake questions. Tasting starts at 4:00pm and we'll be pouring until 8:00pm, or until we run out of sake. We'll see you then!
TOYONOAKI SAKE TASTING!
Saturday, January 24, 2015
4:00pm to 8:00pm
TOYONOAKI KARAKUCHI KINGORO
Junmai
No that's not a picture of Malcolm on the label. (He has more hair than me) This is however one of the sake that is new to our shop. Toyonoaki Karakuchi Kingoro is a very dry sake (karakuchi) with a moderate aroma of wheat grain and steamed rice. It has a deep, mild and complex flavor with acidity and fruits at the finish.

TOYONOAKI SUZUME TO INAHO
Tokubetsu Junmai
Award winning sake and also new to the shop, Toyonoaki Suzume to Inaho is a rich sake with round and mellow aromas of steamed rice and sweet grain. It has an expansive savory flavor harmonized with cream and spice and a medium dry finish.

SHIRATAKI JOZEN MIZUNOGOTOSHI
Junmai Ginjo
From Niigata prefecture and in a beautiful custom bottle to boot, this medium dry sake from Shirataki begins with the refreshing aroma of apples, grapes and peach. It has an expansive savory flavor with soft texture and a tart finish.
KAMIKOKORO OSHIMA SUICHI
Junmai Daiginjo
It's been a while since we've stocked this delicious Daiginjo from Kamikokoro and thought it was overdue for some sampling. This flavorful high end sake starts with fruity aromas of melon and pear harmonized with floral aromas. Medium dry with mild flavors and tranquil acidity. As with most Daiginjos, best served chilled.
KAMIKOKORO"WHITE PEACH" MOMO
Junmai
Each bottle contains an entire famous Okayama peach blended with premium junmai sake. A mildly sweet flavor of white peach balanced with bamboo leaf, herb and plum flavors. Refreshing spicy finish. Excellent as an aperitif or with spicy foods. This also mixes well in cocktails.
So let's welcome in the new year with some really good sake this Saturday at the shop! See you then!
Kanpai,
Malcolm & Nadine Leong
The Sake Shop
TOYONOAKI SAKE TASTING
Saturday, January 24, 2015
4:00 pm to 8:00 pm

Yoneda Sake Brewery circa 1896
Yoneda Sake Brewery was founded in 1896 by Kingoro Yoneda in Shimane prefecture's Matsue City. At that time, the area was bustling with commerce and was a main shipping point along the Ohashigawa River.
Warehouses lined both banks of the river, and it bustled with merchants selling all sorts of wares, from seafood and soy sauce to vinegar, ice and many other items.


Founder Kingoro Yoneda
Kingoro named his main brand of sake "Toyonoaki," expressing hopes for a bountiful autumn harvest. He was so devoted to making good sake that he worked as a brewer even while he was the company president, which is very unusual in traditional sake brewing.
Due to his passion for making good sake, Toyonoaki became very popular in Japan. Eventually, Yoneda Sake Brewery began to also brew shochu (a Japanese distilled liquor) and real mirin (sweet rice wine used in cooking) under Kingoro's direction.


Toyonoaki Brewery Workers
In 1908, when the Imperial Family visited Matsue City, they purchased Toyonoaki sake. In 1931, Toyonoaki received an honorary award at a national competitive exhibition of sake, and for three consecutive years between 1992 and 1994 and again in 1997,
Toyonoaki was awarded the Gold Prize at the annual awards ceremony conducted by the National Research Institute of Brewing that recognizes the best newly brewed sake of the year. In 2011, Toyonoaki won honorary awards for all of the brews it entered into a sake competition conducted by the Hiroshima branch of the National Tax Agency.
JAL (Japan Airlines), the leading airline company in Japan, served Toyonoaki as their in-flight sake for first class passengers for 14 years, from 1991 to 2005.

Kamikokoro Sake Brewery
Two of the sake we will be tasting this Saturday are from Kamikokoro which is located in Okayama prefecture. Kamikokoro is a relatively young micro sake brewery that was founded in 1913.
The prefecture of Okayama is known as a famous peach producing area and the birthplace of the Momotaro  or Peach Boy story.


Nadine, Mr. Fujii and Malcolm
We were lucky enough to meet the President of Kamikokoro Brewery a few years ago, Mr. Nobuhiko Fujii.  He is a terrific guy who dressed up as Momotaro the Peach Boy during our tasting.


Momotaro (Peach Boy) Story
Most of us in Hawaii are familiar with the story of Momotaro or the Peach Boy.  It begins when a childless women finding a giant peach floating down the river.  When she and her husband attempt to cut it open to eat it they find Momotaro inside.
He tells the couple he was sent from Heaven to be their son.  They name him Momotaro which roughly translates to "Peach Boy".  (Momo in Japanese means Peach and Taro is a common eldest son name.)
The story continues with Momotaro growing up and then going on a quest to defeat some evil ogres or demons who have been causing trouble for everyone.
The demons live on a remote island very far away.  Along the way to reach the island Momotaro meets and befriends a talking dog, monkey and pheasant who all agree to help him.
Of course being the hero he is, Momotaro and his friends defeat the demons and return home with their treasure.  Along with his parents and new friends, they all live happily ever after.

---
The Sake Shop
1461 S. King Street
Honolulu, HI 96814
Ph (808) 947-7253
Fax (808) 947-7254
sakeshophawaii@gmail.com
www.sakeshophawaii.com
Twitter @sakeshop
Facebook The Sake Shop
Map: 
maps.google.com/maps
Parking
Metered parking available on King Street, Kaheka Street & Liona Street.  Pay lot located behind our building. $2 for 1/2 hour Monday – Friday until 6pm and Saturdays until 2pm.  All other hours $2 for 5 hours (paybox). Enter from Liona Street. Unfortunately we are unable to  validate parking.
Hours of Operation  
10am to 8pm Mon – Sat
10am to 5pm Sun