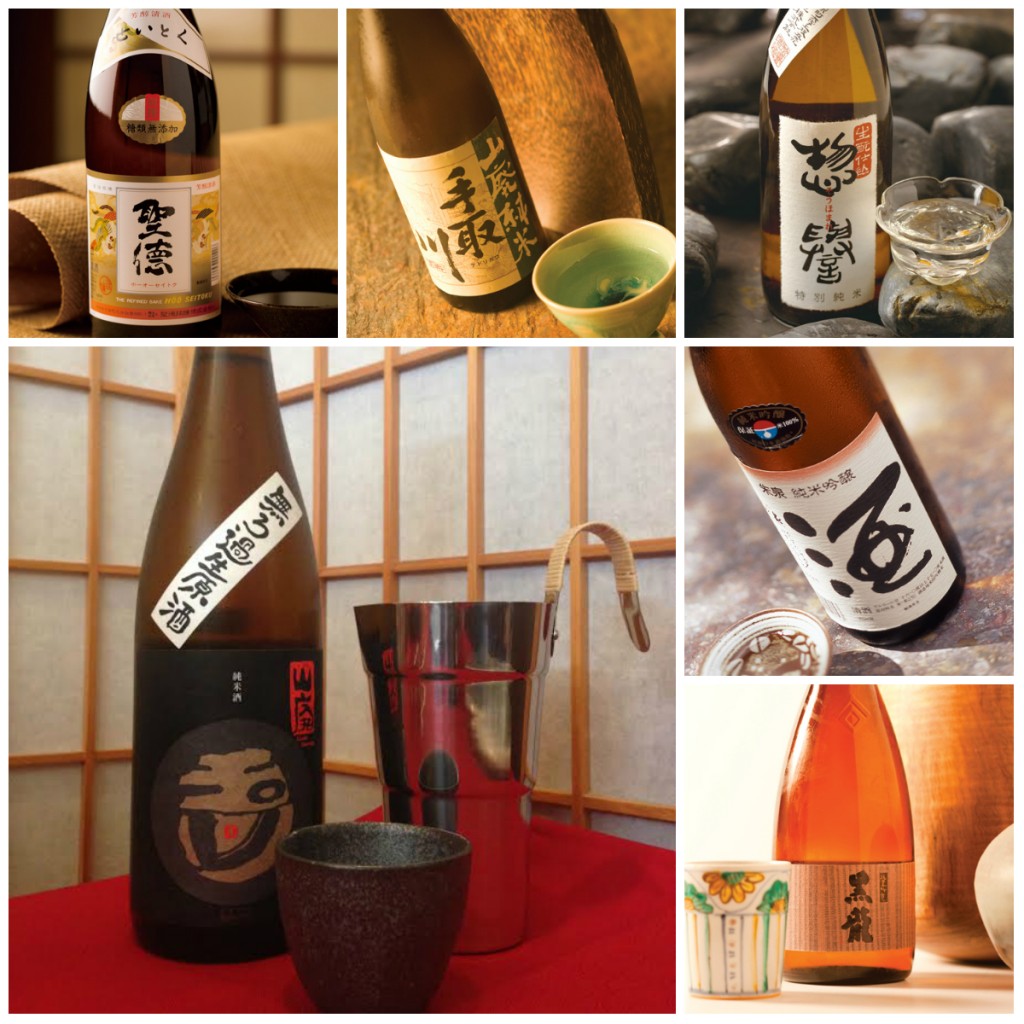 WINTER WARM SAKE TASTING!
BRRRRRR! It's really beginning to feel like Winter in Hawaii. Yesterday I actually contemplated wearing long pants and today the temperature got down to a BONE CHILLING 66 DEGREES! What's a guy to do when it gets so darn COLD here in Hawaii? Why hold a Winter Warm Sake Tasting of course!
Join us this Saturday as we finish up the year with a Winter Warm Sake Tasting. We'll be sampling SEVEN outstanding premium sake both CHILLED and WARM! All of these sake were specially selected for their great flavor both hot and cold.
Mr. Yoshiharu Suzuki (Yoshi) of World Sake Imports will be our "Warm Sake Master" this Saturday, using his superpowers to somehow keep track of and serve you seven different sakes two ways. My head gets sore just thinking about managing that. Tasting starts at 2:00pm and we'll be pouring until 7:30pm, or until we run out of sake.
So this Saturday with all the Christmas stress behind us, why not stop by the shop for our Winter Warm Sake Tasting. We'll see you then!
WINTER WARM SAKE TASTING!
Saturday, December 27, 2014
2:00pm to 7:30pm
SEITOKU BESSEN
"SPECIAL SELECT"
Futsushu
We first sampled this wonderful sake at our "Meet the Brewers" event earlier this year. It was a crowd favorite that night and we're looking forward to sampling it warm this Saturday as well. Light-bodied and preetily balanced, "Bessen" drinks just as clean as a ginjo sake. Seitoku brings a lot of finesse to the futsushu category—traditional sakes for the ordinary working man or woman.


TEDORIGAWA YAMAHAI JUNMAI
"SILVER MOUNTAIN"
Yamahai Junmai
This is Nadine's favorite everyday drinking sake. It is a connoisseur's junmai sake, dry, sharp and smooth all in one. It's mild astringency, characteristic of sakes made using the old yamahai method, is balanced by a faintly discernible sweetness.

SOHOMARE TOKUBETSU KIMOTO
"HEART AND SOUL"
Tokubetsu Kimoto
Contemporary rendition of ancient kimoto style sake. Soulfully drinkable with plenty of acidity and ample umami, all in perfect harmony. Made with Yamadanishiki, Japan's finest sake brewing rice. One of our new favorites at the shop.

KAMOIZUMI SHUSEN
"THREE DOTS"
Junmai
A wild card in the sake deck, Kamoizumi Shusen has a wonderfully woodsy, forest-floor aroma of fall leaves and mushrooms. There is a lot to explore with this big boned sake, which some people feel is at it's best served warm. It's been 2 years since we've last sampled this sake, looking forward to trying it out again this Saturday.
TAMAGAWA TOKUBETSU JUNMAI
"HEART OF OAK"
Tokubetsu Junmai
Signature Junmai release from British Sake Brewmaster Philip Harper. Nutty and toasty with a wild berry zing, this full-throated evocation of Junmai delight is in a class by itself. Richly flavorful, yet crisp-drinking and always balanced.
KOKURYU JUNMAI GINJO
"BLACK DRAGON"
Junmai Ginjo
Kokuryu Junmai Ginjo has the imposing presence of sakes brewed in the Noto Toji style of Western Japan. Its deeply mysterious flavor seems to come from the earth itself: rich, dynamic and welcoming. One of our favorite sake to pair with food. Goes well with everything from sashimi to grilled meats!
TAMAGAWA RED LABEL
"HEIRLOOM YAMAHAI GENSHU"
Yamahai Genshu
Get ready to have your socks knocked off with this highly unusual sake! Tamagawa Red Label is a unique sake that is brewed using the "wild yeast" that is found only at Kinoshita Brewery. (Almost all modern sake use cultivated pure yeast cultures.) The result is a very potent brew, rich in amino acids and exceptionally vigorous. The 20% alcohol level is nothing to sneeze at as well.
So wrap up 2014 and get ready for the new year by joining us for our Winter Warm Sake Tasting. See you Saturday!
Kanpai,
Malcolm & Nadine Leong
The Sake Shop
WINTER WARM SAKE TASTING
Saturday, December 27, 2014
2:00 pm to 7:30 pm

Warm or Cold Sake?
There always seems to be a bit of confusion when it comes to drinking warm sake. During my father and grandfather's time it was common to drink sake warm. In fact I remember my grandfather owning a funky looking gold colored electric sake warmer that reminded me of what a genie's bottle might look like.
Fast forward to today, and many people feel that only "cheap" sake is served warm in an attempt to mask it's harsh flavor profile. Some people feel high end sake must always be consumed chilled, not warm. So who's right? Should only inexpensive sake be warmed or is it OK to warm any sake?
Well first of all, thirty or forty years ago, premium sake as we know it today didn't exist. (Well except for maybe some competition sake) The sake rice back then was different and was not milled as small as it is today. These older sake also tended to have a much more earthy and fuller flavor profile.


Warming Sake in Water
Sake back then was brewed and shipped in wooden cedar barrels which also imparted a flavor to the finished product. This type of "woodier" flavor did lend itself well to warming, and a lot of the delicate fruit flavors that we love in our premium sake today did not really exist just yet.
Nowadays premium sake taste totally different from the sakes of the past. Lighter, softer, more fragrant and fruity, contemporary sake is best served chilled to be able to taste all of these delicate flavors.
Generally speaking, warming most ginjo or daiginjo sake makes it difficult to taste all of these delicate flavors. So yes, as a general rule of thumb, you should drink your premium sake at least slightly chilled in order to appreciate these softer nuances.


Warming Sake Over Flame
However, that doesn't mean you can't also warm sake. There are many wonderful premium sake (like the ones we're sampling this Saturday) that tastes spectacular slightly warmed.
Some of these sake already taste great chilled, but can sometimes feel a little "tight" this way. Warming these sake causes them to "open up" as it were, creating a fuller more tastier flavor profile that most people would say tastes even better.
Once again as with most things sake, it does come down to personal preference. Our advice to you, don't be a sake snob who only drinks chilled premium sake. When the opportunity arises (like this Saturday), take a chance and try a warm premium sake. You might be pleasantly surprised.

Kinoshita Sake Brewery
Kinoshita Brewery is located in Kyoto prefecture and was originally founded in 1842. They produce Tamagawa sake which translates to "Jewel River" in English.
In 2007 their brewmaster passed away after 48 years of service. The owner, Yoshito Kinoshita, considered closing the brewery but instead took a chance and made some bold changes to revitalize his business.
First, Mr. Kinoshita had his brother-in-law create a new design and logo for the brewery. Then, he hired foreign brewmaster, Philip Harper to take charge as their new toji.


Malcolm, Philip Harper and Nadine
The gamble paid off immediately as Philip Harper's Tamagawa Kinsho won gold at the prestigious Japan National Sake Appraisal after his very first season at the brewery.


Tamagawa Yeast in Action
Most sake breweries use yeast that has been distributed by the Sake Brewer's Association of Japan. These yeast have been isolated, identified and numbered over time. Some yeast like Miyasaka Brewery's Yeast #7 are very well known and highly regarded for it's ability to produce good sake.
However, in the old days, before pure yeast cultures were isolated and made available to brewers, the yeasts that drove fermentation were the wild ones that were found living in the rafters of the brewery.


Tamagawa Yeast in Action
Kinoshita Sake Brewery is one of the very few breweries who still use these wild yeast strains to make sake. Referred to as "spontaneous fermentation" style, the Tamagawa Red Label Sake we'll be sampling this Saturday is crafted using these wild yeast to ferment.
This "spontaneous fermentation" style, using only fine rice polished on site, spring water from the mountain behind the brewery and the yeast and bacteria living in their buildings, is the same kind of brewing that would have been practiced by craftsmen when Kinoshita Brewery was originally founded in 1842.

---
The Sake Shop
1461 S. King Street
Honolulu, HI 96814
Ph (808) 947-7253
Fax (808) 947-7254
sakeshophawaii@gmail.com
www.sakeshophawaii.com
Twitter @sakeshop
Facebook The Sake Shop
Map: 
maps.google.com/maps
Parking
Metered parking available on King Street, Kaheka Street & Liona Street.  Pay lot located behind our building. $2 for 1/2 hour Monday – Friday until 6pm and Saturdays until 2pm.  All other hours $2 for 5 hours (paybox).  Enter from Liona Street.  Unfortunately we are unable to  validate parking.
Hours of Operation  
10am to 8pm Mon – Sat
10am to 5pm Sun