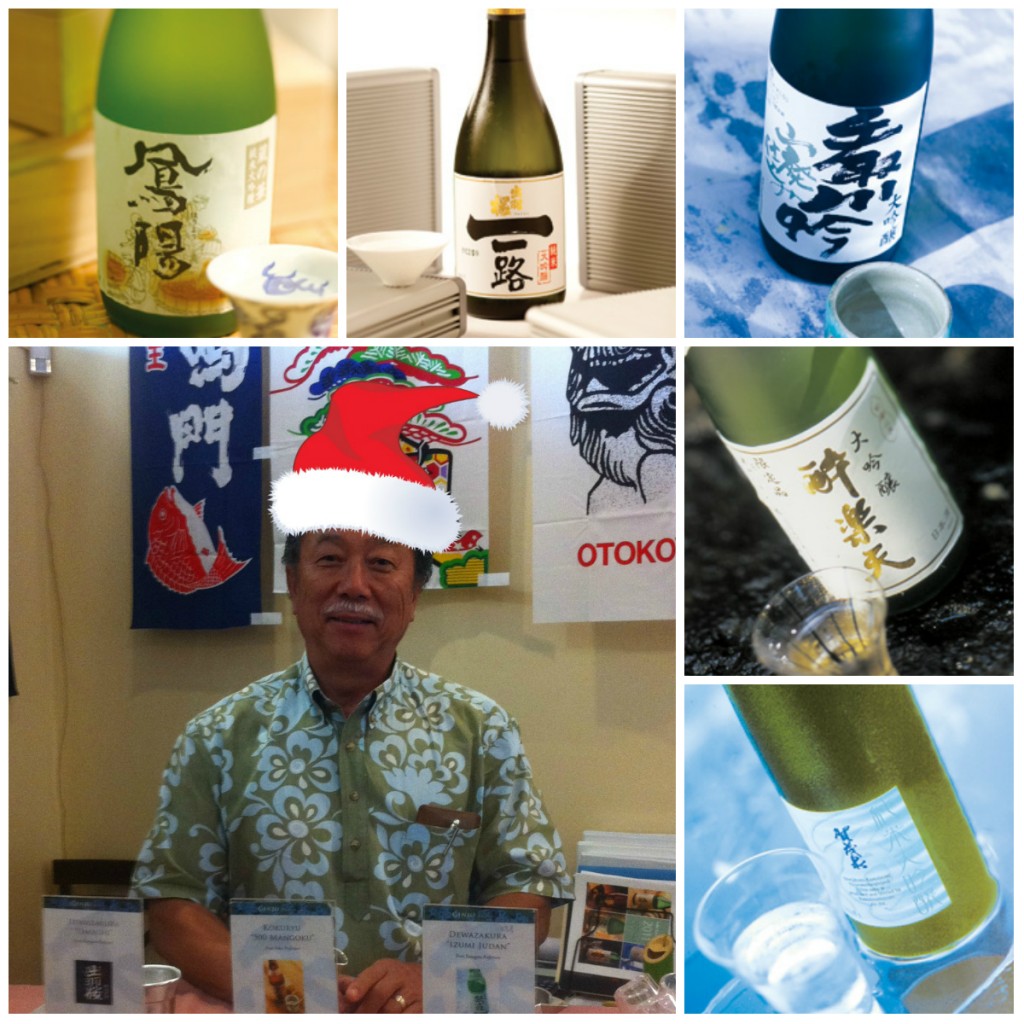 "GINJO BELLS, GINJO BELLS, DAIGINJO ALL THE WAY"
A HOLIDAY SAKE TASTING!
Ho Ho Ho and Seasons Greetings from The Sake Shop! It's that time of the year again, when we hold our annual holiday sake tasting, Because you've all been good girls and boys (well mostly good I guess) we've decided to make this an EXTRA special tasting by pouring DAIGINJO SAKE ONLY! That's right, the entire tasting will consist of only premium Daiginjo sake.
But wait, it gets even better. If we're going to do an all Daiginjo sake tasting we might as well go "ALL THE WAY"by sampling a whole bunch of them right? So this Saturday we'll be tasting NINE different Daiginjo sake, Yes, you read that right, NINE Daiginjo sake. Ho ho ho indeed!
As usual, Mr. Yoshiharu Suzuki (Yoshi) will be on hand to pour all of this wonderful sake and answer any questions you might have. He wants to spread as much holiday cheer as he can, so he's starting early at 2:00pm and will be pouring until 7:30pm, or until we run out of sake.
So why deal with all the craziness at the malls? Stop by the shop this Saturday, and get all of your holiday shopping done in one place while enjoying a tasty alcoholic beverage. Hope to see everyone there.
"GINJO BELLS, GINJO BELLS, DAIGINJO ALL THE WAY!"
A HOLIDAY SAKE TASTING!
Saturday, December 13, 2014
2:00pm to 7:30pm
HOYO KURA NO HANA
"FAIR MAIDEN"
Daiginjo
Very popular at Izakaya Gaku, this premium sake is transparently light and touched with a sweet kiss of anise. Hoyo's winsome grace and charm are irresistible. It's lovely floral aroma and luscious flavor extend a demure invitation to the world of sake enjoyment.

AKITABARE SUIRAKUTEN
"HEAVEN OF TIPSY DELIGHT"
Daiginjo
One of Nadine's all time favorites, this high end premium sake is cold aged in the bottle for two years before release. This unusual practice allows the sake to develop a rarefied, multi-hued flavor. Gentle, yet strong, unassuming but proud, a masterpiece of the brewer's art.

TEDORIGAWA YAMAHAI DAIGINJO
"CHRYSANTHEMUM MEADOW"
Daiginjo
Brewed using the old school Yamahai method, this complex Daiginjo begins with an enticing imprint of honey and herbs at first sip, segueing at mid-range into a sake of surprising clarity. Supple, racy and eminently drinkable over long periods of time.

KOKURYU RYU
"GOLD DRAGON"
Daiginjo
Elegant, sophisticated sake that was once served in First Class on Japan Airlines. The soft water of Fukui, combined with the robust Kokuryu brewing style, produces a sake that is gentle and firm. It has a faint, cedar-like woodiness, and an incisive melding of flavor and aroma.
DEWAZAKURA DAIGINJO
"MOUNTAIN CHERRY"
Daiginjo
Wonderfully soft sake from our friends at Dewazakura, this sake is reminiscent of softly melting snow. It has a mild floral fragrance, revealing notes of peach and apricot at mid-range, concluding with a light and slightly dry finish.
DEWAZAKURA ICHIRO
"ABBEY ROAD"
Daiginjo
Relatively new to the US, Dewazakura Ichiro has quickly grown to become one of our most popular Daiginjo sake at the shop. Fresh meadow imprint of flowers and grass billows out into a fuller flavor profile replete with young fruit. A dry gently fading finish rounds the circle. Gold award winner at previous Joy of Sake/US National Appraisals and top-scoring sake entry at the London 2008 International Wine Challenge and one of Malcolm's favorites.
TAMAGAWA KINSHO
"HEART OF GOLD"
Daiginjo
Brewed by Philip Harper, the only foreign brewmaster in Japan, Tamagawa Kinsho beings round and full flavored with gamboling fruit and floral displays joined by ripe fruit and grassy nuances. Glacial incrementations of flavor achieved by sub-zero bottle aging impart both silky viscosity and depth.
MASUMI NANAGO
"SEVENTH HEAVEN"
Daiginjo
A lovingly nurtured redolently flavorful Daiginjo with an insouciant attitude: old style sake for the 21st Century. Brewed using the old school Yamahai method. One of Nadine's favorite Daiginjos.

KAMOIZUMI JUNMAI DAIGINJO
"AUTUMN ELIXIR"
Junmai Daiginjo
We normally recommend this sake to people who want something a little richer and "earthier" than the usual Daiginjo as this sake possesses a full range of flavors from persimmon to caramel to earthy notes of shitake mushrooms and autumn leaves. Tartness, sweetness and "shibumi" (astringency) all converge in harmonious balance.
Get all your holiday shopping done in once place while sipping on a tasty beverage. See you Saturday!
Kanpai,
Malcolm & Nadine Leong
The Sake Shop
"GINJO BELLS, GINJO BELLS, DAIGINJO ALL THE WAY!"
A HOLIDAY SAKE TASTING!
Saturday, December 13, 2014
2:00 pm to 7:30 pm

Kokuryu Ryu Daiginjo Sake
Our tasting this Saturday is a special one because we'll be sampling Daiginjo sake. Some of you who are new to sake may be asking yourself, what is Daiginjo sake and why are we making such a big deal about it.
So let's take a moment to discuss Daiginjo sake and what makes it different from other sake. To do that we'll first need to go over the different grades and classifications that make up premium sake.

Brown Rice / Polished Rice
After sake rice has been harvested, and before it is cooked to make premium sake, it is milled or polished to remove the outer husk. Why is this done?
Well primarily because the outer portion of the sake rice is where most of the fat and proteins are located, which can ultimately contribute to "off flavors" when making sake.
The center of the sake rice grain is where more of the pure starch is located. Milling the rice smaller will also get you closer to this starchy center or "shinpaku" which is preferred by most brewmasters to make really good sake.


Sake Rice
Here's where it gets a little complicated. Since this is supposed to be about Daiginjo sake I am going to over simplify this explanation a bit so that it is easier to understand. (My apologies to all you sake connoisseurs.)
To keep things simple, we'll say that there are three classes of premium sake based on milling rates.
The first level is referred to as Junmai and the rice must be polished to 70% or smaller to qualify. In this instance, 30% of the outer portion of the rice has been polished off leaving 70% of the original rice grain.
Sake that is made using rice milled down further to 60% or smaller is referred to as Ginjo.
When rice is milled down to 50% or smaller, it is referred to as Daiginjo. Remember that the 50% milling rate is a minimum. Many of the Daiginjo sake we'll be sampling this Saturday have been milled down even smaller than 50%.
So this is an over simplified explanation of what defines a Daiginjo sake. Now to learn why Daiginjo sake tastes so good, you'll have to come to the tasting. Sorry, some things just need to be tasted to be understood.


Yoshida (Tedorigawa) Sake Brewery
Yoshida Sake Brewery was founded in 1870 and is located in the Hokuriku region of Ishikawa prefecture. The area has long been known for it's excellent rice and pure water from nearby Mount Hakusan.
In recent years popular taste in Japan has moved away from the "light and dry" style of sake towards more full-flavored sake. At the center of this movement have been the brewers of the Hokuriku region, where a cold-weather brewing climate and the local Noto Toji brewing style combine to produce bold, assertive sakes.


Yoshida Sake Brewery Worker
Within this tradition, Tedorigawa sakes stand apart for their elegance and finesse. The brewery uses Kanazawa Yeast, which has a mild aroma profile with low acidity, often in conjunction with the yamahai brewing method, to produce sakes that have richness and complexity, yet are perfectly smooth and balanced.
Tedorigawa's sakes are big on flavor, but never heavy or dense. With the exception of its "Silver Mountain" junmai, which is best savored at room temperature, they are best served crisply cold. Clean, great-tasting and easy to drink, it's no wonder that Tedorigawa is so popular with sake enthusiasts everywhere.

Uchigasaki (Hoyo) Sake Brewery
One of the Daiginjo sake we'll be sampling this Saturday is Hoyo Kura no Hana. The maker of this fine sake is Uchigasaki Brewery. They are located in Miyagi prefecture and were founded in 1661 by Uchigasaki Sakuemon. They are the oldest sake brewery in Miyagi and continues to be family run.
Tomiya village where the brewery is located was built by Sakuemon's father, Uchigasaki Oribe.  Oribe was a samurai lord with the Date clan and had been ordered to build Tomiya village by the famous samurai warlord, Date Masamune himself.


Kamoizumi Sake Brewery
Kamoizumi Brewery is located in the Saijo area of Hiroshima prefecture. Compared to other breweries, Kamoizumi is relatively young having been founded around 100 years ago in 1912.
The brewery is known for brewing only Junmai muroka sake. Junmai in this instance means no additional alcohol was added and muroka means the sake was not charcoal filtered as most sake are.

Kamoizumi Toji (Brewmaster)
The Maegaki family, who run the Kamoizumi brewery, started out as rice farmers who became landlords and then moved into "value added" areas such as rice milling and eventually sake brewing at the onset of the modern era in 1910.
In 1965, Kamoizumi became one of a pioneering group of ten breweries who committed to junmai sake production at a time when breweries all over Japan were heavy-handedly adding brewers alcohol to their vats to make as much money as possible.A couple of years ago,


Kamoizumi Saying
In 1971, Kamoizumi introduced its first junmai label. At the time, it was the practice to filter the pressed sake through charcoal to remove impurities and attain the pure, colorless state that was the aesthetic ideal. The Kamoizumi brewers felt, however, that these "impurities" were essential characteristics of the sake itself and that to remove them entirely was to compromise the essential nature of its identity.

---
The Sake Shop
1461 S. King Street
Honolulu, HI 96814
Ph (808) 947-7253
Fax (808) 947-7254
sakeshophawaii@gmail.com
www.sakeshophawaii.com
Twitter @sakeshop
Facebook The Sake Shop
Map: 
maps.google.com/maps
Parking
Metered parking available on King Street, Kaheka Street & Liona Street.  Pay lot located behind our building. $2 for 1/2 hour Monday – Friday until 6pm and Saturdays until 2pm.  All other hours $2 for 5 hours (paybox).  Enter from Liona Street.  Unfortunately we are unable to  validate parking.
Hours of Operation  
10am to 8pm Mon – Sat
10am to 5pm Sun