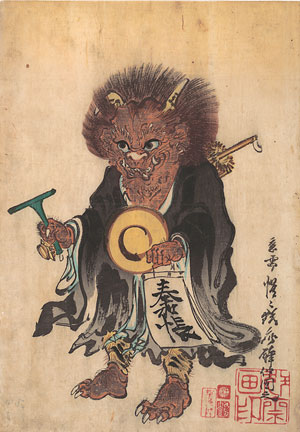 DEMON SLAYER SAKE TASTING
YES, we're having a sake tasting this Saturday!  YES, we'll be tasting a sake called "Demon Slayer".  NO, you cannot bring your samurai sword to the tasting!  Let me repeat, there will be no swordplay allowed at the shop as there will be NO actual demons to fight.  Instead, prepare to sample some sake that is so good, some people say it can "slay the demon"!
Wakatake Onikoroshi is a sake made by Oomuraya Sake Brewery.  The word "Onikoroshi" translates to Demon Slayer.  Our importer tells us that Wakatake Onikoroshi Junmai Daiginjo is their best selling sake on the mainland, and we'll be sampling this sake along with their Junmai and Junmai Ginjo
So join us this Saturday as we sample three demon slayer sake along with a seasonal sake from Otokoyama and a new sake from Ohyama called Tomizu.  FIVE delicious sake to make your Saturday evening just a little more enjoyable from your friends at the Sake Shop!
DEMON SLAYER SAKE TASTING & SALE
Saturday, May 25, 2013
5:00pm to 8:00pm 
Here is the lineup for this Saturday.   
WAKATAKE ONIKOROSHI JUNMAI
"Demon Slayer"
Junmai
Rich and flavorful sake that begins with round aromas of grain, cream, melon and apricot.  Very complex yet balanced sake with a smooth and mild texture.  

WAKATAKE ONIKOROSHI JUNMAI GINJO
"Demon Slayer"
Junmai Ginjo
Light, smooth and rich sake, begins with a very clean, almost watermelon tinged nose.  Round and quite impressive in the mouth, it finishes with a pleasant slight bitterness on the tongue.
WAKATAKE ONIKOROSHI JUNMAI DAIGINJO
"Demon Slayer"
Junmai Daiginjo 
Beautifully round and alluring sake with a silky texture. Deep flavorful taste and slight sweetness stemming from elegant and fruity aromas. Superb acidity and  great finish.  Our importer tells us this is their best seller on the mainland.
 OTOKOYAMA YUKISHIBARE
"Misty Sake"
Tokubetsu Junmai Nama
Brewed with new rice harvested from the previous Autumn and then released in late Spring.  Very dry, misty (lightly cloudy) seasonal sake.  Fresh and fruity aroma of pear, apple and grape.  Expansive savory flavor with plenty of fruits.  Call us crazy but this sake actually pairs very well with PIZZA!
OHYAMA TOMIZU
Big Mountain "Classic"
Tokubetsu Junmai
Relatively new to Hawaii, this sake from Ohyama begins with deep and complex aromas of fruits and grains. Thick and juicy flavors of fruit, harmonize with a mature savory flavor that ends with crisp acidity.
So please join us this Saturday as we "slay the demon" and sample some terrific sake!  Remember, no swords allowed!  See you then!
Kanpai,
Malcolm & Nadine Leong
The Sake Shop
DEMON SLAYER SAKE TASTING & SALE
Saturday, May 25, 2013
5:00 pm to 8:00 pm

Oomuraya Sake Brewery
Oomuraya Sake Brewery was founded in 1832 and is located in Sumida City in Shizuoka prefecture. Their Wakatake "Onikoroshi" or Demon Slayer line of sake is very popular in both Japan and the US.
The current Toji or Brewmaster is Mr. Satoru Hibino, a young man not quite yet 40 years old.  In contrast to this, the 6th generation owner, Mr. Keisaji Matsunaga, is a spry and energetic 75 year old who loves to travel to New York to introduce his delicious brews!
Oomuraya Milling Machines
The water that the brewery uses comes from a well over 50 meters deep that taps into the Oi River bed. Much of the rice that they use is grown locally in Shizuoka prefecture including Gohyakumangoku, Aichi no Kaori and Homare Fuji.
Most of the yeast they use is also local and include some rare and obscure varieties.  Besides their Wakatake line, Oomuraya Sake Brewery is also known for producing private labels that help to promote different Japanese cultural events.
Mount Fuji
Shizuoka prefecture lies to the South of Tokyo along the Pacific coastline, about halfway between Tokyo and Nagoya.  Mount Fuji and the Izu Peninsula are both located in Shizuoka prefecture.  Besides delicious sake, Shizuoka is also known as a producer of high quality tea.
Blue Oni (Demon)
What is an "Oni"?  The word "Oni" in "Onikoroshi" means demon.  Oni can also refer to an ogre, devil or goblin. Basically, Oni refers to all the dark and scary things that go bump in the night.
Oni are popular characters in Japanese art and literature.  They are usually depicted as demonic ogre like beasts, with sharp claws and sometimes horns protruding from their heads.
Oni Statue
So why is the sake called Demon Slayer?  Well the thought is that the sake is so good, it can overwhelm or "slay" a demon.  Stop by this Saturday to find out if this is true!

Kato Kahachiro Shuzo
Another sake we'll be sampling this Saturday is Ohyama Tomizu. Ohyama sake is made by Kato Kahachiro Brewery and is named after a town in Yamagata prefecture called "Ohyama-cho" where the sake brewery is located.
Ohyama means "Big Mountain", which is why it's no surprise that the town of Ohyama-cho is located near a VERY BIG MOUNTAIN called Mount Chokai.
The Ohyama district is famous for being the top sake brewing area in Eastern Japan since the Edo period.Originally there were over 40 sake breweries in the area, but most of them were destroyed in a large fire in 1884.
Currently only 4 breweries continue to brew sake in the area, with Kato Kahachiro brewery and it's Ohyama sake being the most well known. Kato Kahachiro brewery was founded way back in 1872, making it well over 140 years old.
---
The Sake Shop
1461 S. King Street
Honolulu, HI 96814
Ph (808) 947-7253
Fax (808) 947-7254
sakeshophawaii@gmail.com
www.sakeshophawaii.com
Twitter @sakeshop
Facebook The Sake Shop
Map: 
maps.google.com/maps
Parking
Metered parking available on King Street, Kaheka Street & Liona Street.  Pay lot located behind our building. $2 for 1/2 hour Monday – Friday until 6pm and Saturdays until 2pm.  All other hours $2 for 5 hours (paybox).  Enter from Liona Street.  Unfortunately we are unable to  validate parking.
Hours of Operation  
10am to 8pm Mon – Sat
10am to 5pm Sun