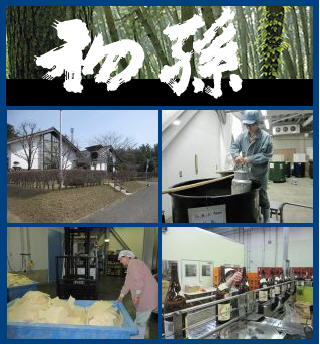 PACIFIC INTERNATIONAL LIQUOR SAKE TASTING
Well we're back from our trip to Japan, and we had a great time eating some delicious food and drinking some tasty sake!  Now it's back to business as we've scheduled our next sake tasting for April! Hosted by our friends at Pacific International Liquor (PIL), we'll be sampling some wonderful sake, some of which are brand new to the shop along with some old favorites as well.
Mr. Tomo Yamada of PIL will be at the shop this Friday to pour his sake and answer any questions you may have. Please note that we're having this tasting on a FRIDAY instead of our usual Saturday, so be sure to mark your calendars
PACIFIC INTERNATIONAL LIQUOR
COMPLIMENTARY SAKE TASTING & SALE
FRIDAY, April 26, 2013
5:00pm to 8:00pm 

Here is the lineup for this FRIDAY.   
HATSUMAGO SHOZUI
"The First Grandchild"
Junmai Daiginjo

Pure ripe pineapple, anise and apple custard tart aromas with a fruity medium to full body. Creamy vanilla pudding, green apple, praline and pepper accented finish. Delicious and explosively flavorful, one of our favorite sakes at the shop.  
HATSUMAGO JUNMAI KIMOTO
"The First Grandchild"
Junmai Kimoto

Aromas and flavors of vanilla rice pudding, delicate nutmeg, cinnamon, and apple tart with a silky medium to full body. Smooth, resonant finish with notes of papaya, plantain and grassy earth. Excellent complexity and depth. Brewed using the old school "Kimoto" method.

YAEGAKI MU
"Nothingness"
Junmai Daiginjo 
Delicate but brilliantly aromatic in character, this sake begins with shy aromas of nuts, cream and dried nectarine.  A medium body sake that is fruity yet dry, it ends with an anise, custard, shiitake and nut skin finish. A pleasant appetizing sake.
 HANANOMAI
"Dance of the Flowers"
Junmai Ginjo
Solid and lively, this single pasteurized sake begins with aromas of honeyed melon, dried pineapple, oatmeal and creamy nougat.  It transitions into a dry, supple yet fruity medium body.  It finishes with a tangy, kiwi, sweet potato and mineral finish.
KUROSAWA
"Black Stream"
Junmai Kimoto
The #2 selling premium sake in the US, this sake begins with aromas of apple, cobbler, daikon and rice candy wrapper. A medium bodied sake that finishes with crisp green apple, dried honey and dusty parsnip.  Nice complexity and style.  Can be served hot, cold or at room temperature.
So please join us this FRIDAY to sample some great sake from PIL!  The tasting is complimentary as always, and it should be a lot of fun! See you then!
Kanpai,
Malcolm & Nadine Leong
The Sake Shop
PACIFIC INTERNATIONAL LIQUOR
COMPLIMENTARY SAKE TASTING & SALE
FRIDAY, April 26, 2013
5:00 pm to 8:00 pm

Hatsumago Sake Brewery
A few of the sake we'll be sampling this Friday are "Kimoto" style sake. So what is Kimoto?  Similar to the Yamahai method but actually older in origin, all sake were at one time brewed using the Kimoto method.
The Kimoto method starts with pole ramming, where the rice, water and koji mold in the yeast starter are actually mashed up using wooden oar like poles.  In the old days it was thought that this was necessary to brew sake.
It was later realized that this pole ramming, or "Yama-oroshi" in Japanese, wasn't necessary. Instead, by simply adding more water and raising the temperature of the starter mash, the same result was achieved without the pole ramming.
The remaining process of the Kimoto method is similar to the Yamahai method, where the brewer then waits for lactic bacteria found in the natural environment of the brewery, to fall into the tank and multiply on it's own.
It takes about a month for enough lactic bacteria to form in sufficient amounts to clean up the tank. During this longer period of time, all kinds of wild bacteria and yeasts have been falling into the open tank.
Kimoto – Where the Wild Things Are
While the lactic bacteria eventually produce enough lactic acid to kill off all of these unwanted guests, they inevitably leave a little bit of themselves behind.  It is thought that this longer period of time which allows all of these wild yeasts and bacteria to build up end up contributing to the wilder gamey flavor of Kimoto sake.
As an interesting side note, the Yamahai method of brewing sake owes it's name to the removal of pole ramming from the process.  In Japanese, "Yama-oroshi" refers to the pole ramming.
So when the "Yama-oroshi" was ceased or "haishi" in Japanese, a contraction of the two words were used to describe this new method. Thus, the "Yama-hai" method was born.
Kurosawa Sake Brewery
Kurosawa Sake Brewery was established in 1858 and is located in Yachiho Village in Nagano prefecture. The location is 800 meters above sea level, which makes it one of the few breweries located at such a high elevation.
They value the tradition of sake brewing by doing most of the early brewing stages by hand.  Their dependence on modern technology is kept to a minimum.
Kurosawa Sake Brewery produces 17 kinds of "Kimoto" sake. (sake produced by traditional methods without any fermentation enhancing lactic acid)

Miyamanishiki Rice Harvest
The region they are located in produces "Miyamanishiki Rice", a sake brewing rice varietal traditionally grown in Nagano prefecture.  There are seven contracted farms that supply Kurosawa Brewery exclusively.
Kurosawa Brewery is traditional but with a sense of innovation.  As the younger generations of the family participate in the family business, they offer new concepts and visions which only enhances this fine sake brewery.
Sake Rice
People often ask us if a special kind of rice is used to make sake and the answer is "Yes"!  While sake can also be made using regular "table rice", premium sake is made using sake rice or "sakamai".
There are about 100 different types of sake rice, and almost all of them are the result of being purposely crossbred over time.
Most of the prefectures in Japan will grow some type of sake rice, but in general the best sake rice is grown in the West, in prefectures such as Hyogo, Okayama and Hiroshima.
Sake rice plants tend to be taller than regular rice plants, thus making them more difficult to grow.  The size of the rice grains are also larger as well.
Sake rice tends to have a higher starch content with more of the starch being concentrated in the middle of rice grain which is preferred for sake making.
Some of the different types of rice that have been used to make the sake we will be tasting this Saturday include Gohyakumangoku, Miyamanishiki and Yamadanishiki, the King of Sake rice.
---
The Sake Shop
1461 S. King Street
Honolulu, HI 96814
Ph (808) 947-7253
Fax (808) 947-7254
sakeshophawaii@gmail.com
www.sakeshophawaii.com
Twitter @sakeshop
Facebook The Sake Shop
Map: 
maps.google.com/maps
Parking
Metered parking available on King Street, Kaheka Street & Liona Street.  Pay lot located behind our building. $2 for 1/2 hour Monday – Friday until 6pm and Saturdays until 2pm.  All other hours $2 for 5 hours (paybox).  Enter from Liona Street.  Unfortunately we are unable to  validate parking.
Hours of Operation  
10am to 8pm Mon – Sat
10am to 5pm Sun