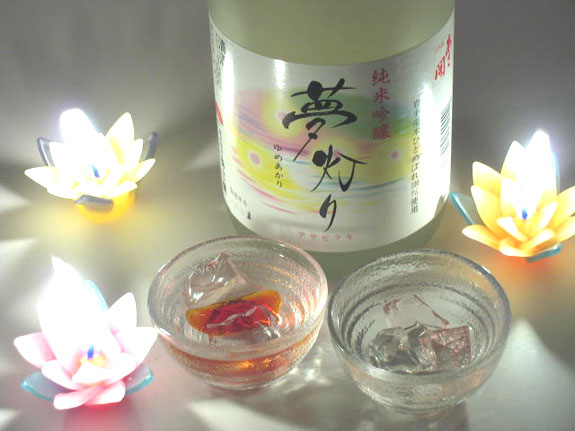 While many of us are still recovering from Thanksgiving (Nadine and I included), it is now officially December, which means a couple of important things to remember.  First, Christmas is just around the corner which means it's time to stock up on sake for all of those holiday parties and Christmas gifts.  Second, it's a perfect time for a sake tasting!
Join us this Saturday for our Asabiraki Sake Tasting with Mr. Hirohisa Kikuchi of Asabiraki Sake Brewery.  He'll be at the shop pouring his delicious sake and answering any questions you might have.  We'll be sampling FIVE different sake from Asabiraki including a new single pasteurized sake called "Namacho".  Hope you can make it!
ASABIRAKI
COMPLIMENTARY SAKE TASTING & SALE
Saturday, December 8, 2012
4:00pm to 7:00pm
Here is the lineup for this Saturday.   
ASABIRAKI NAMACHO
Honjozo
For the first time at the shop we bring you this wonderful single pasteurized Honjozo from Asabiraki. Fruity aroma on the nose and a deep intense flavor that smoothly fades on the palate for a dry clean  finish.
ASABIRAKI YUMEAKARI
"DREAM LIGHT"
Junmai Ginjo
A wine lover's favorite, this sake is mild with a smooth and fruity flavor profile.  Made from 100% Hitomebore rice and actually milled down to the Daiginjo level of 50%, this sake has a fragrant nose with flavors of pear and melon and a buttery smooth finish.
ASABIRAKI NANBURYU
"SOUTHERN STREAM"
Junmai 
Medium dry and well balanced Junmai that drinks smooth.  This sake is made from Toyo Nishiki rice that has actually been milled down to the Ginjo level of 60%. Some people taste a slight pleasant cedar or "sugi" flavor although this is not a taruzake.
 ASABIRAKI SUIJIN
"GOD OF WATER"
Junmai
Suijin translates to "God of Water". It's full of taste with a powerful flavor of rice and a pleasant sharpness befitting a very dry sake of high caliber.  Very food friendly.
ASABIRAKI UME KANON
Junmai Umeshu
Umeshu is usually made using shochu, but this one is made using 100% Junmai sake.  The result is a softer more balanced ume flavor with a pleasant acidity.  Great with desserts or all by itself as an after dinner drink.
So please join us this Saturday for our Asabiraki Sake Tasting.  Meet Mr. Kikuchi and sample some really great sake while getting an early start to your Christmas shopping!
Kanpai,
Malcolm & Nadine Leong
The Sake Shop
ASABIRAKI
COMPLIMENTARY SAKE TASTING & SALE
Saturday, December 8, 2012
4:00 pm to 7:00 pm
Asabiraki Sake Brewery
Established by Genzo Murai of the Nanbu Samurai Clan, Asabiraki Brewery was founded in 1871 in Iwate prefecture which is located in Northern Japan. It's name comes from an 8th century poem about the blessing of a ship as it leaves on a voyage.
Asabiraki's sake is brewed in the "Nanbu style" of making sake using skilled craftsman of the Nanbu Toji Guild. The Nanbu Toji trace their roots back over 300 years and originated in the Iwate area of Japan. One of the three top sake brewing guilds in Japan, Nanbu style sake is known for its clean crisp flavor.
Masahiko Fujio
Mr. Masahiko Fujio is the Toji or Master Brewer of Asabiraki.  His sake has won gold twelve consecutive times at the prestigious Japan National New Sake Competition held each Spring.
In March 2011 after the devastating earthquake and tsunami struck the Tohoku region of Japan, Mr. Fujio along with other brewery toji and Presidents recorded messages of hope and thanks.
You can watch Mr. Fujio's message on Youtube by clicking on his picture above.
The folks at Joy of Sake are hosting another aftertaste this Thursday, December 6th from 6pm to 8pm at the Japanese Cultural Center.
For those of you who are not familiar with an "aftertaste" it is a smaller Joy of Sake tasting event with around 40 different sake. The theme for this one is Japanese myth and ceremony, and the sake will be arranged by festival theme.
New Year's - Joyous, splendid Daiginjo labels.
Setsubun (Spring Festival) - Scares the demons away.
Cherry Blossom Season - Gay, festive and fun to drink.
Tanabata (Milky Way Festival) -Sends us to the stars. 
Nadine has been asked to speak at this aftertaste and will be sharing her favorite ways to pair sake and food during the holidays.  Here's the menu.
Kabocha no Irini
(Simmered Japanese pumpkin)
Saba Misoni
(Mackerel with miso & ginger sauce)
Takenoko & Buta no Tosani
(Tosa-style bamboo shoots and pork)
Clam & Cucumber Namasu
White rice with green peas
Registration begins promptly at 5:30pm.  Click on this link to be directed to the online ticket store or call Pua at 222-0195. 
---
The Sake Shop
1461 S. King Street
Honolulu, HI 96814
Ph (808) 947-7253
Fax (808) 947-7254
sakeshophawaii@gmail.com
www.sakeshophawaii.com
Twitter @sakeshop
Facebook The Sake Shop
Map: 
maps.google.com/maps
Parking
Metered parking available on King Street, Kaheka Street & Liona Street.  Pay lot located behind our building. $2 for 1/2 hour Monday – Friday until 6pm and Saturdays until 2pm.  All other hours $2 for 5 hours (paybox).  Enter from Liona Street.  Unfortunately we are unable to  validate parking.
Hours of Operation  
10am to 8pm Mon – Sat
10am to 5pm Sun