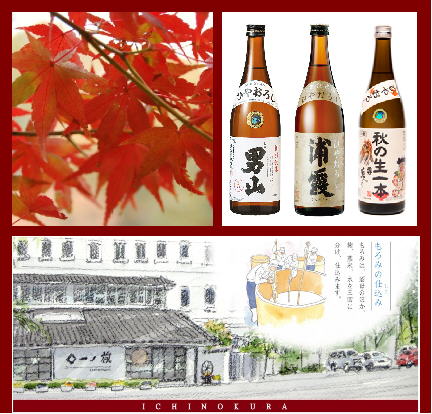 It's a ONE-TWO COMBINATION PUNCH this Saturday, as we welcome a special guest from Japan and roll out some great seasonal sake for Fall. FIRST, our Autumn seasonal sake has arrived so we'll be sampling THREEdifferent "Hiyaoroshi" from three separate sake breweries. SECOND, we have the pleasure of hosting Mr. Enomoto of Ichinokura Sake Brewery. Mr. Enomoto will be at our shop pouring his wonderful sake and answering any questions you might have.
Wow, Autumn seasonal sake and a brewery representative in the house, sounds like all the makings of a great sake tasting this Saturday!
AUTUMN SEASONAL AND ICHINOKURA
COMPLIMENTARY SAKE TASTING & SALE
Saturday, November 17, 2012
5:00pm to 8:00pm
Here is the lineup for Saturday.
WAKATAKE HIYAOROSHI
Aki No Ki-Ippon
Tokubetsu Junmai
Very smooth and alluring medium dry sake with a refreshing fruity aroma of muscat.  Nicely balanced, expansive savory flavors.  Light, smooth and rich type sake from Shizuoka prefecture.      


URAKASUMI HIYAOROSHI
Tokubetsu Junmai
An elegant sake, smooth and light, from Miyagi prefecture. It begins with savory aromas of rice and fruit harmonized nicely together. It has a well balanced mild flavor with a soft texture and finish. Over the past few years this sake has been the fan favorite at our Hiyaoroshi tastings.

OTOKOYAMA HIYAOROSHI
Tokubetsu Junmai
For the first time in our shop all the way from the Northern most prefecture of Hokkaido, we bring you Otokoyama Hiyaoroshi. Crafted using the old school "Kimoto" method, this sake has depth with a nice balance of dryness and acidity. See the article to the right about some friends of ours who recently visited Otokoyama Brewery.

ICHINOKURA SHOZANTEN
 "Heavenly Pine Tree"
Junmai Daiginjo
This flavorful high end Junmai Daiginjo from Ichinokura begins with fruity aromas of apple and kiwi with  a hint of spice. Very well balanced taste with an elegantly acidity and fruity flavor. Unfortunately our distributor is currently out of stock but we'll have a bottle for sampling nonetheless.

ICHINOKURA JUNMAI
Junmai
This Junmai from Miyagi prefecture starts with aromas of dry grain, streamed rice and a touch of mineral. Light, smooth with a well rounded flavor, this sake is surprisingly refreshing with a dry finish.

ICHINOKURA HIMEZEN
 "Princess"
Junmai
As sake brewers continue to evolve to keep pace with a more modern palette, we see wonderful new sake emerge like Ichinokura Himezen. Light and smooth with complex aromas, this new age sake has only about half the alcohol of your average sake (only 8%). It has the clean acidic flavor of citrus fruits with a crisp refreshing finish.
So please join us this Saturday for our ONE-TWO COMBINATION PUNCH SAKE TASTING. Try some great seasonal sake and meet Mr. Enomoto of Ichinokura Sake Brewery. Should be a blast!
Kanpai,
Malcolm & Nadine Leong
The Sake Shop
AUTUMN SEASONAL AND ICHINOKURA
COMPLIMENTARY SAKE TASTING & SALE
Saturday, November 17, 2012
5:00 pm to 8:00 pm
What is Hiyaoroshi?
What is Hiyaoroshi sake?  As a standard practice, sake is normally pasteurized twice, once after pressing and once more before bottling.  Hiyaoroshi refers to sake that has been pasteurized only ONCE after pressing and is released in the Fall.
In the old days sake was always left to sit undisturbed during the Summer after pressing.  This was because the heat of Summer could cause unwanted bacteria and other nasties to wreck havoc on the sake.
When Autumn would finally roll around, the temperature would be cool enough for the brewer to ship their sake without having to pasteurize it a second time.  
Sake that was single pasteurized and released during the Fall in this manner became known as Hiyaoroshi.  Sake that is single pasteurized but not necessarily released in the Fall is known as "Nama Zume".
Matsutake Mushrooms
(Picture Courtesy of Wikipedia)
The resulting sake is a little less mature than regular sake with it's own unique flavor.  While not as brash or zingy as totally unpasteurized sake (namazake), Hiyaoroshi still captures some of that fresh lively flavor.
As with most things Japanese, seasonal sake goes well with the typical foods of the season. Hiyaoroshi goes well with Autumn foods such as Matsutake mushrooms or fish that are at their peak fattiness during the Fall.

Ichinokura Sake Brewery was founded in 1973 and is located in the woody hills of Miyagi prefecture's Matsuyama town in Osaki city. It was originally four separate breweries that merged into one with the common goal of brewing great sake.
The area that the brewery is located in has an abundance of pine trees and forests that help turn the rainfall and snow into pure clean ground water, perfect for brewing great sake.
The pure water also makes it possible to grow high quality rice in Miyagi prefecture which has been doing so for over 2,000 years.  Great water and terrific rice all make for incredible sake.
The last piece of the puzzle in making good sake is the expertise or experience of the toji (brewmaster) and the kurabito (workers). Ichinokura's brewmaster and workers are part of the Nanbu Toji Guild of sake making, the largest and very well respected sake making guild that originated from Northern Japan.

Melissa Chang and Laurie Oue
Two friends of ours recently visited Hokkaido and made a planned stop at Otokoyama Sake Brewery. Melissa Chang, freelance writer and social media goddess along with Laurie Oue, friend, foodie and sake lover.
We were able to set them up with a personal tour of Otokoyama Sake Brewery which was conducted by the President himself, Mr. Yokichi Yamazaki.
Our two friends learned quite a bit about sake and had a wonderful time. Melissa currently writes a food blog for Nonstop Honolulu and ended up posting a terrific story about their experience including a short video and a bunch of pictures.
Click here to see Melissa's blog posting about their visit to Otokoyama.
---
The Sake Shop
1461 S. King Street
Honolulu, HI 96814
Ph (808) 947-7253
Fax (808) 947-7254
sakeshophawaii@gmail.com
www.sakeshophawaii.com
Twitter @sakeshop
Facebook The Sake Shop
Map: 
maps.google.com/maps
Parking
Metered parking available on King Street, Kaheka Street & Liona Street.  Pay lot located behind our building. $2 for 1/2 hour Monday – Friday until 6pm and Saturdays until 2pm.  All other hours $2 for 5 hours (paybox).  Enter from Liona Street.  Unfortunately we are unable to  validate parking.
Hours of Operation  
10am to 8pm Mon – Sat
10am to 5pm Sun