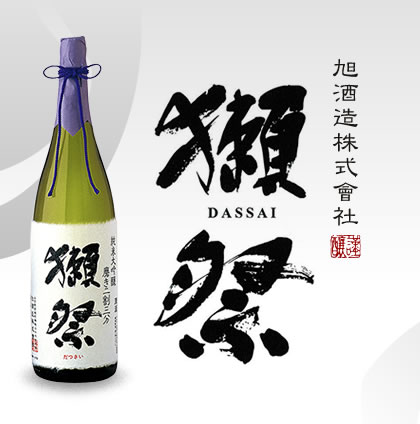 Guess who's back in town this Saturday?  I'll give you a hint, they once held the record for the smallest milled rice, they were the first brewery to have their entire line of sake designated as kosher and they produce a sake that is one of Malcolm's all  time favorites.  Still haven't figured it out yet?  Okay, last hint, their name rhymes with "Popeye"?  Yessiree Bob, that's right … this Saturday we're sampling Dassai Sake!
For those of you who don't already know this, Dassai 50 was the sake that really got me (Malcolm) into drinking sake before we opened the shop.  I remember having my first sip and being bewildered by the floral aroma and fruity flavors, wondering how sake could taste so darn good?  The fact that Dassai 50 is so reasonably priced for a Junmai Daiginjo didn't hurt as well.  It soon became my everyday favorite sake and continues to be my "go to" sake today.
 Nadine, Ms. Yumi Ohira and Malcolm
This Saturday we have the special treat of sampling FIVEdifferent sake from Dassai, including their super high end Dassai 23 and a newer Dassai Sparkling Sake that has been recently introduced to Hawaii.  We also have the pleasure of hosting Dassai Representative, Ms. Yumi Ohira, who will be here from Japan to pour her sake for us and answer our questions.
Cheese is not something that normally comes to mind when pairing food with sake.  Surprisingly however, it does match very well.  Some of the Dassai sake in particular goes well with cheese, so we've decided to have some out for everyone to sample with their sake this Saturday. Sorry, that big cheese wheel in the picture will not be at the tasting this Saturday, it just looked good in the picture.
DASSAI
COMPLIMENTARY SAKE TASTING & SALE
Saturday, October 20, 2012
4:00pm to 8:00pm
Here is the lineup for Saturday.
DASSAI 50
Junmai Daiginjo
Malcolm's favorite and the one that got him started, this Junmai Daiginjo begins with lively floral aromas and well rounded flavors of fruit and candy.  Delicate and elegant yet flavorful and aromatic.      

DASSAI 39
Junmai Daiginjo
Light and balanced with soft fruity flavors and a mild acidity.  For when you want something smooth and drinkable that is not too precocious.  The "39" in it's name means the rice was milled down to 39% of it's original size.
DASSAI 23
"Ni-wari San-bu"
Junmai Daiginjo
Using Yamadanishiki rice that has been milled down to a ridiculously tiny 23% of it's original size, this ultimate sake has a delicate fruity aroma and a refined flavor profile.  Beyond smooth, this is the one sake you need to try.

DASSAI 50 NIGORI
Junmai Daiginjo
Unlike most other Nigori Sake, this one's not overly sweet and has a lighter rice sediment than most.  It has a nice full flavor but still drinks remarkably smooth and ends with a refreshing semi dry finish.

DASSAI 50 SPARKLING NIGORI
 Junmai Daiginjo
Relatively new to Hawaii, this sparkling sake is also a nigori sake but with a very light rice sediment.  Soft aromas of anise turn to mild flavors of coconut and pineapple and then finishes with a refreshing "effervescence".
So please join us this Saturday for our DASSAI SAKE TASTING.  Try Malcolm's favorite Dassai 50 and meet Ms. Ohira from Asahi Shuzo Brewery.
Kanpai,
Malcolm & Nadine Leong
The Sake Shop
DASSAI
COMPLIMENTARY SAKE TASTING & SALE
Saturday, October 20, 2012
4:00 pm to 8:00 pm

Asahi Shuzo
Asahi Shuzo, is located deep in the mountains of Yamaguchi prefecture, the most southern prefecture of the main Japanese island of Honshu.
The brewery is owned and run by the Sakurai family and crafts only premium Junmai Daiginjo sake using almost exclusively high end Yamadanishiki rice.
Otter Festival
The name "Dassai" translates to "Otter Festival".  Part of this comes from the ancient name for the area of Yamaguchi prefecture where the brewery is located.
In the old days, many otters could be found in the nearby rivers and streams of this area.  The otters would often lay out the fish they caught on the shores of the river, just like they do at Japanese festivals. This led to the reference "otter festival" but there is also more.
A famous haiku poet named Masoka Shiki who lived over a century ago referred to himself as "Dassai" because of his propensity to scatter his reading material all over the floor of his room in the same manner that the otters would spread out their fish.
Mr. Shiki was instrumental in creating a revolution in Japanese literature during his time, and Asahi Shuzo shares a similar philosophy with him. Rather than become complacent with existing traditions and techniques, they also wish to reform and revolutionize how sake is made in order to produce a superior product.   
Preparing Rice
When crafting their sake, Asahi Shuzo has always tried to incorporate the new along side the traditional.  Some of their brewing methods make use of ancient tools and are done by hand, while others take advantage of extremely modern technology.
Dassai Centrifuge Machine
They've been the "first" in many areas including the first to use a centrifuge to "press" their sake as opposed to using a more traditional "fune" or large pressing machine. 
Asahi Shuzo is also one of the first breweries to be able to brew sake year round, which allows them to put out a more consistent product.
Kosher Sake?
Another unique distinction of Dassai sake is their recent certification as a kosher sake.  This certification was not easy to achieve, and took over a year to finish.
Everything from their rice and yeast to all of the machines that they use were scrutinized and validated.  Asahi Shuzo is the first sake brewery to have every sake they make be certified as kosher.
Dassai 23 Rice
It once held the record of having the smallest milled rice and we'll be sampling it this Friday.  Super premium Dassai 23 is truly the sake that defines Dassai.
The "23" means the rice was milled down to 23% of it's original size before brewing.  This means 77% of the rice was polished off leaving a small itty bitty rice kernel.
The reason they do this is the center of the rice grain is where more of the pure starch is located.  The outside of the rice grain is where most of the fat and proteins are located.
Pure starch produces a cleaner more elegant flavor while fats and proteins tend to produce more off flavors.  As you can imagine, this sake is not cheap, but well worth it's price when you consider the cost involved in producing it.
Another Joy of Sake Aftertaste event we'd like to share with you.
The Kokusai Sake Kai (International Sake Association) invites you to attend it's 25th annual "Tsukimi no En" or Moon Viewing Party, featuring award winning sakes from the 2012 U.S. National Sake Appraisal and a terrific array of appetizers from Chef Russel Siu.
The event will be held at 3660 On the Rise.  From their back patio there's a wide open view of the Eastern sky where the moon will appear right after sunset.
Some of the featured sake for this lunar occasion include "Winter Moon", "Morning Flowers, Evening Moon", "Moon Mountain" and "Snowy Moonflowers of Echigo".
Friday, October 26, 2012
6pm to 9pm
3660 On the Rise
Cost $65 per Person
Go to the Ticket Store
Or call Pua at (808) 222-5591