Over the past few years, many of our customers have asked us whether we had a sake barrel for rent to use for their wedding or other celebratory occasion.  Sadly, we have had to turn people away because we did not have anything available.  Purchasing and having a sake barrel shipped from Japan was cost prohibited and very difficult.  Well, after much planning and many sleepless nights, we are very happy to announce that we have finally brought in a beautiful sake barrel from Japan and it is available for rent immediately.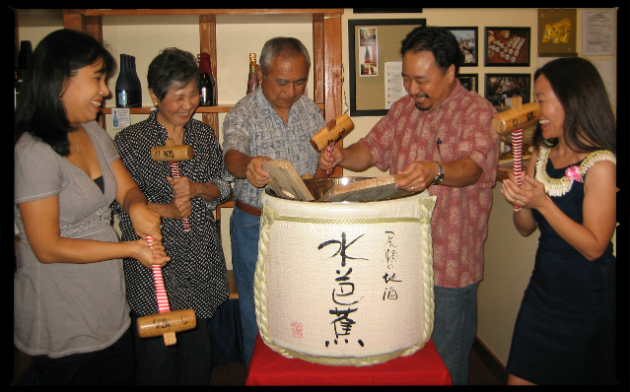 This is another sake barrel we borrowed for our own Grand Opening Celebration back in 2009
Living in Hawaii, many of us have seen a sake barrel ceremony performed at a wedding or other important celebration.  The ceremony is actually called "Kagami Biraki" in Japan.  Basically a large ornamental barrel full of sake is opened by firmly hitting it's wooden cover with a hammer or hammers.  After opening, the sake is ladled out from the barrel and shared amongst the guests and a celebratory toast is usually in order.
In the old days an actual cedar barrel filled with sake would be used.  Sake like this is referred to as "taru" sake or "taruzake" with taru meaning barrel in Japanese.  The only downside to this is taruzake tends to have a strong cedar flavor and aroma that many people describe as "peppery".  Not everyone enjoys this type of flavor as it can be quite overpowering.
These days the barrel is actually empty with a stainless steel bowl fitted inside and the cover sits loosely on top.  Prior to the ceremony the wooden cover is removed and your favorite premium sake is poured into the bowl.  The cover is then replaced and the ceremony is performed.
Now you can rent out our sake barrel for your special occasion.  Weddings, birthdays, new business openings, 1st birthday parties or any other special event!  Our beautiful sake barrel comes with up to 7 hammers and two bamboo ladles, and of course you know where you can buy the delicious sake to put in the barrel.

Call Nadine for pricing and availability.  Kanpai!