Honolulu Magazine (July 2010)

John Heckathorn of Honolulu Magazine wrote an article about the shop and a dinner we shared with him and his wife at Natsunoya's briefly opened sushi bar.  Over sushi and sashimi we sampled three different sake that we had brought that night.  
Click here to read the article online
.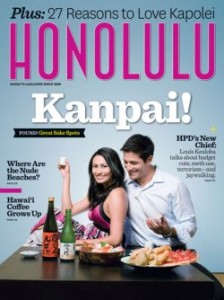 ---
Modern Luxury Magazine (Summer 2010)
Modern Luxury Hawaii Magazine
did a small article on the shop (and Sake Street Restaurant) in their Summer 2010 edition.  Although the caption on the picture indicates "Sake Street", that's actually a picture of sake at our store.