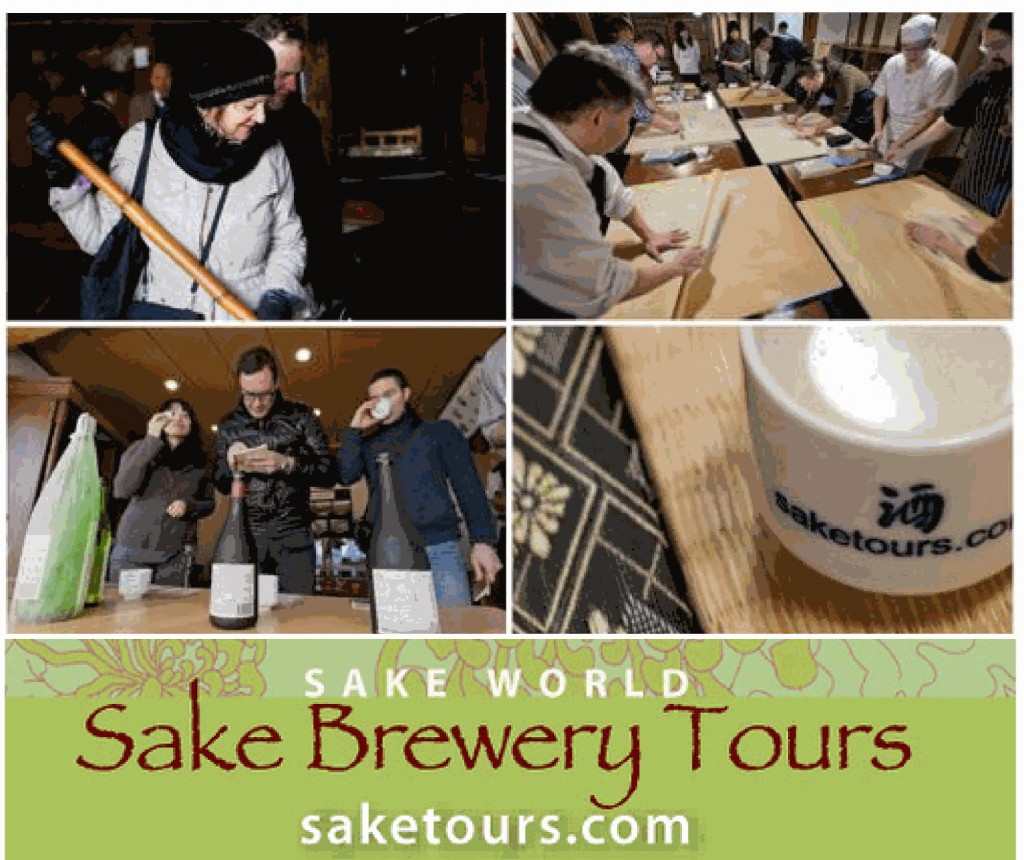 We are hosting a very special sake tasting this Saturday to promote sake brewery tours in Japan given by our friend Ms. Etsuko Nakamura of "Sake Brewery Tours".  Also included in these tours are special sake seminars conducted by another friend, sake expert John Gauntner. Together these two friends offer incredibly wonderful sake brewery tours of both Akita and the Kansai area.
The best way to learn more about these tours is to visit Etsuko's website by clicking here or on the picture above.
To help them promote these brewery tours we will be sampling sake from a few of the different breweries that are included in the tour.  This Saturday we'll be tasting a total of SIX different sake from five well known sake breweries, Shichi Hon Yari, Ama No To, Tsukinokatsura, Harushika and Yuki no Bosha.
SAKE BREWERY TOURS 2013
COMPLIMENTARY SAKE TASTING & SALE
Saturday, November 24, 2012
5:00pm to 8:00pm
Etsuko was nice enough to send us some free ochoko (sake cups) to give out this Saturday as well. Free sake and a free ochoko, what more could you ask for?  So join us this Saturday (11/24) for our Sake Brewery Tours 2013 Sake Tasting.
Here is the lineup for this Saturday.   
SHICHI HON YARI
"THE SEVEN SPEARSMEN"
Junmai
This sake is brewed at one of Japan's oldest and smallest breweries, the Tomita brewery, which was founded in the 1540′s and makes just over 5,000 cases of sake per year. First earthy and mushroomy on the nose, this sake then reveals light fresh notes of grapefruit and melon on the palate. It's body is light and it finishes crisp and clean.

TSUKINOKATSURA YANAGI
"WILLOW TREE"
Junmai Ginjo
From the beautiful prefecture of Kyoto, this flavorful sake begins with the clean aroma of citrus fruits and mineral and a touch of strawberry. Nicely balanced on the palate with flavors of ripened fruits, it has a long savory finish.
AMA NO TO
"HEAVEN'S DOOR"
Tokubetsu Junmai 
Although sold as a "Tokubetsu Junmai" this sake is actually milled down to the almost Daiginjo level of 55%.  Sweet rice aromas surrounded by floral fresh herb spiciness lead into a slightly dry medium bodied sake.  Mouth watering apple flavors with an agreeable earthiness on the mid palate that ends with a clean ricey finish.
 HARUSHIKA UMAKUCHI YONDAN
"FOUR STEPS"
Junmai
From our friend Mr. Imanishi in Nara prefecture, this full bodied medium dry sake has a moderate fruity aroma combined with mild rice aroma. Expansive savory flavor and fruity aftertaste.
YUKI NO BOSHA AKITA KOMACHI
"BEAUTY OF AKITA"
Junmai Daiginjo
Akita Komachi means "Beauty of Akita" and refers to both the fair ladies for which the region is known for and the cherished local rice of the same name. This Daiginjo has upfront notes of white pepper that fade into dried apricot and melon. Wonderfully elegant sake that pairs surprisingly well with chocolate.

YUKI NO BOSHA
LIMITED RELEASE
Junmai Ginjo
This Junmai Ginjo is a favorite with new and seasoned sake drinkers alike. With an actual milling rate of 55%, it is soft and light on the palate with a delightful fruitiness characterized by peaches, strawberry and papaya. It finishes with a white pepper spice.
So please join us this Saturday for our Sake Brewery Tours 2013 Sake Tasting.  Learn more about the tours and sample a lot of great sake.
Kanpai,
Malcolm & Nadine Leong
The Sake Shop
SAKE BREWERY TOURS 2013
COMPLIMENTARY SAKE TASTING & SALE
Saturday, November 24, 2012
5:00 pm to 8:00 pm
The Sake Brewery Tours are 5-day excursions into the world of sake brewing, drinking and enjoyment, featuring an exclusive seminar with respected expert and author, Mr. John Gauntner.
Experience sumptuous cuisine, luxurious excursions to some of Japan's famous hot springs and fantastic cultural highlights. Participants obtain a deep understanding of sake's history, varieties and enjoyment with a wide range of food pairing. Enjoy just pressed daiginjo and other new sake for the season only available at the source!
In 2013, their special journey takes you to experience the best of snow country in Akita, and to immerse yourself in the ancient capitals of Japan in the Kansai region.
AKITA TOUR
February 23 – February 27, 2013
Take this opportunity to enjoy the best of snow country, Akita. Meet the sake brewers, savor simple inaka-style Akita cuisine and soak in the onsen (hot springs). Some very memorable experiences you will only find with them are: a visit to a brewer's private historic estate, special cooking lessons from local experts, memorable private music performance and more!
Click on this link for more information about the Akita Tour.
KANSAI TOUR
March 4 – March 8, 2013
Experience Kansai though the lives of people who have devoted themselves to perfecting ancient traditions. You will meet and discuss sake, food, pottery and art and culture of Buddhism with those who know it best. From your base in Kyoto, you will have day excursions in the city and out to neighboring Nara and Shiga.
In addition to a chance to visit sake breweries during the brewing season, their special excursions include: a taste of three culinary traditions that are very close, yet distinctive to each area, sake vessel seminar with Robert Yellin, visits to pottery studios and a different view of Japan's spiritual backbone through the sacred Goma fire ceremony at a mountain temple.
Click on this link for more information about the Kansai Tour.
Etsuko Nakamura and John Gauntner
Sake Brewery Tours is put together by Ms. Etsuko Nakamura and includes a seminar conducted by sake expert John Gauntner.
Etsuko Nakamura is a friend of ours and one of the nicest people you'll ever meet. She is an Advanced Sake Professional and Government Certified Bilingual English Guide. She and her husband Ted live and work in Japan and have a passion for sake and food.
Most of you already know who John Gauntner is.  To refresh your memory, he is the leading non-Japanese sake expert in the world.  He has written several books on sake, advises the Japanese government on sake promotion and is an all around nice guy as well.
FREE STUFF!
Another reason to stop by this Saturday is FREE STUFF!  Anyone who purchases a 720 ml bottle of one of the sake we are sampling this Saturday will receive one FREEochoko from Sake Brewery Tours. (While supplies last)
---
Tomita Brewery
Founded in the 1540′s in the small town of Kinomoto (Shiga prefecture), with it's production limited to just over 5,000 cases per year, the Tomita Brewery is one of the oldest and smallest breweries in Japan.
With only one toji (brewmaster) and three brewery workers producing every bottle, Shichi Hon Yari sake is truly te-zukuri or "handmade".
It is also a sake that is steeped in history, it's name (Shichi Hon Yari) coming from seven brave spearsmen who are legends in Japanese history, and the Japanese characters for the sake being made by one of Japan's greatest artists.
Shichi Hon Yari refers to the "Seven Spearsmen of Shizugatake". During the battle of Shizugatake, these seven samurai fought for Hideyoshi Toyotomi against Shibata Katsuie. Many of them were promoted to "Daimyo" when Hideyoshi gained control of Japan.
To get a sense of just how old Tomita Brewery is, the battle of Shizugatake took place a very long time ago in 1583. Tomita Brewery was actually founded in the 1540s, BEFORE the battle of Shizugatake took place in 1583!
Rosanjin Kitaoji
Rosanjin Kitaoji (1883 – 1959) was a very famous Japanese artist, known for his pottery and calligraphy. As a young struggling artist before gaining fame and prestige, he traveled Japan, exchanging his craftsmanship for food and lodging.
At one point in his journeys he ended up in Kinomoto village, staying with the Tomita family and becoming good friends with the owner.
To return the Tomita family's hospitality he created a wood block etching of the kanji characters for "Shichi Hon Yari" which to this day still hangs at the entrance of the brewery and graces every bottle of this wonderful sake.
---
The Sake Shop
1461 S. King Street
Honolulu, HI 96814
Ph (808) 947-7253
Fax (808) 947-7254
sakeshophawaii@gmail.com
www.sakeshophawaii.com
Twitter @sakeshop
Facebook The Sake Shop
Map: 
maps.google.com/maps
Parking
Metered parking available on King Street, Kaheka Street & Liona Street.  Pay lot located behind our building. $2 for 1/2 hour Monday – Friday until 6pm and Saturdays until 2pm.  All other hours $2 for 5 hours (paybox).  Enter from Liona Street.  Unfortunately we are unable to  validate parking.
Hours of Operation  
10am to 8pm Mon – Sat
10am to 5pm Sun